Another week, another inspiring advocate! Last week we interviewed Lisa Sawyer for our "I'm An Advocate" series, and today we're happy to feature Sharon Jones.
Sharon is a Real Change vendor, advocate, and a recent graduate of the Washington Low Income Housing Alliance's Emerging Advocates Program. She currently serves as the Vendor Advocacy and Organizing Intern at Real Change, and has been featured as Vendor of the Year, Vendor of the Week, and as a Vendor Representative. She sells Real Change News outside Top Pot Donuts near 5th and Lenora.
Thanks to Sharon for sharing her reflections and advice, and to Real Change community organizer Alex Becker for connecting us with Sharon and many of her fellow vendor-advocates.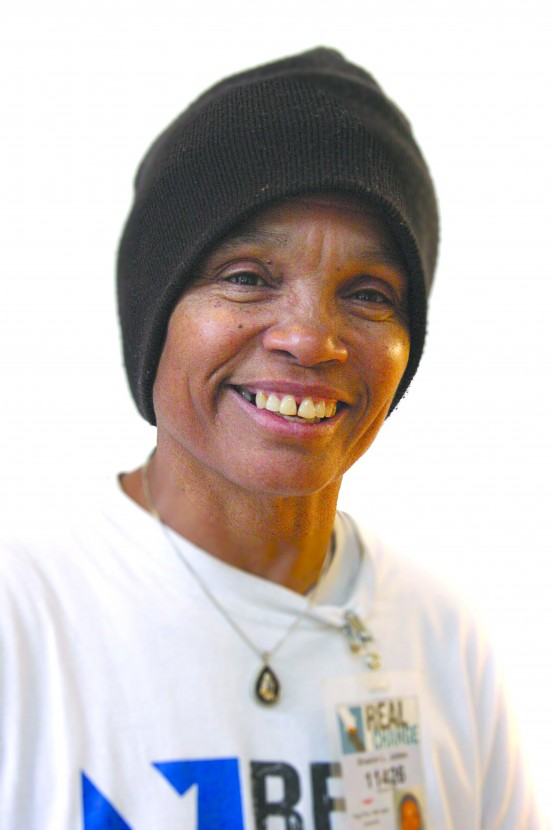 How do you define advocacy?
I define advocacy as doing everything I can to help people. I want to be able to help as many people as I can. Advocacy is standing up for a cause and working to influence those who may or may not care. You need to speak up for the people to hear you and understand you.  We need to get together and be as one to make a real change and get things going for the people. That's advocacy.
Why are you an advocate for housing and an end to homelessness?
I don't believe anyone should be homeless. Especially veterans, who have served their country but are out there holding up a sign. Anybody can fall down–anybody at any time. It's not right that people walk by them and not give them a hand. I try to help whenever I can. I don't believe in homelessness, so I fight to end it. We can do better than this.
What methods do you use to advocate for housing and an end to homelessness?
I speak out and say what I have to say. I go to events, I go to marches and rallies, I speak to councilmembers and representatives, I give testimony, and I organize the people to get involved. Everyone needs to be involved in advocacy because we need to get together and help each other out. But first we have to get together.
What's your favorite advocacy success story?
In June 2013, I testified at a Seattle City Council meeting in support of legislation that would ban the criminal record box on employment applications in order to prevent discrimination against ex-felons. For me, this issue was personal. I served time when I was younger and it still haunts me. I found out that employers hold it against you for the rest of your life. I graduated college to become a certified medical assistant and phlebotomist technician, but I still can't get a job because of my record. I testified that day because I know a lot of people going through the same situation and I had to speak out. The City Council passed the ordinance unanimously and I was interviewed on KUOW radio the next day. I was proud to be part of making that happen. It was my first time speaking at a council meeting, and I've been speaking up and advocating ever since.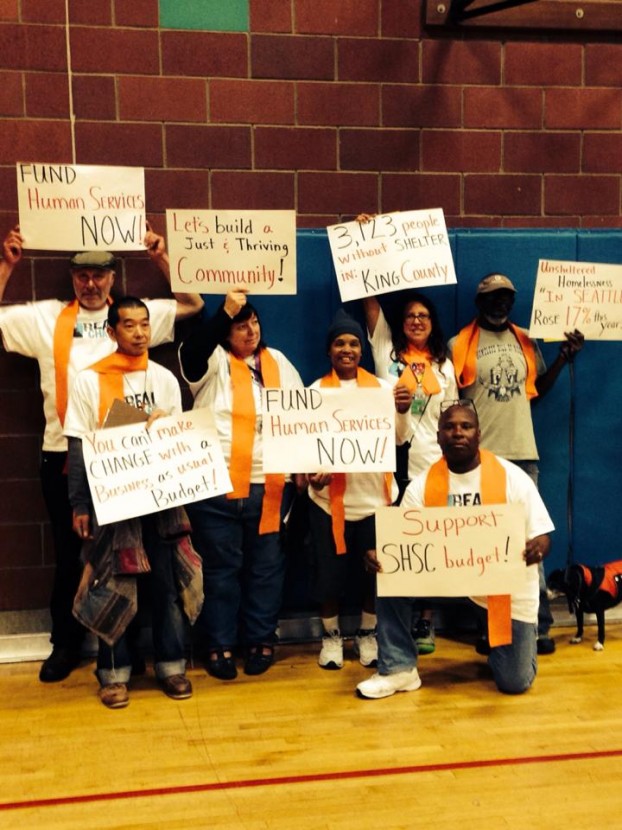 What challenges do you encounter in advocating for housing and an end to homelessness, and how do you overcome them?
Sometimes there's more talk than action. I advocate because I want to get things done and I want to see change. I've developed plans for housing more homeless people, but it's difficult to get funding and make it happen. This is just one example of the type of challenge we face in trying to end homelessness. There's a lot to be done, and we have to keeping fighting for serious change.
What advice would you give to someone who is interested in advocating but doesn't know where to begin?
I would invite them to come out and join us for a rally or an event. I would tell them to get involved. There are a lot of different ways to advocate, and it's educational and a good experience to get to know all different types of people. I would encourage them to stand up for their rights and for each other, because we're all in this together.
---
Read more posts in our "I'm An Advocate" series:
Who would you like to see featured in this blog series? Share your suggestions by posting a comment below!