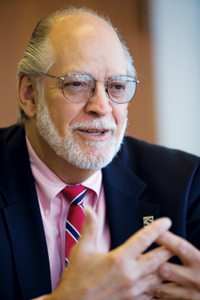 We're excited to launch our newest series, "I'm An Advocate!" Have you ever wondered what it means to be an advocate? Where do you begin? At Firesteel, we think that advocacy in its simplest form is speaking up and people do that in lots of different ways. There is no one "type" of advocate; we're a diverse community! In this series, we'll introduce you to many different housing advocates and hope you'll find inspiration to speak up in your own way.
Our very first highlighted advocate is Kim Herman, the Executive Director of the Washington State Housing Finance Commission. When I announced this series a few weeks ago and asked for suggestions on Twitter, Kim was our first recommendation. (Thanks @seatownsteph!) I wasn't familiar with the Finance Commission so this was a great chance to learn more. Kim is a native of Washington state and has served as a member of the Commission, as Washington project director of the United States Department of Housing and Urban Development's Rural Assistance Initiative Program, as executive director of the Housing Authority of the City of Yakima, and as manager of single-family housing for the Portland Development Commission.
In 1988 he was elected to the board of directors of the National Council of State Housing Agencies and most recently served as president. Kim serves on the boards of the Washington Low Income Housing Alliance, Impact Capital, the National Rural Housing Coalition and the Washington Wildlife and Recreation Coalition.
He is also a member of the Governor's Affordable Housing Advisory Board and the Washington State Department of Commerce Bond Cap Advisory Group. Most recently Kim served on the boards of The Housing Partnership, the Bill & Melinda Gates Foundation Sound Families Steering Committee, and the Greater Seattle YMCA Public Policy Committee. He is a graduate of Washington State University.
---
How do you define advocacy?
Advocacy is taking advantage of any opportunity with another person to explain our affordable housing mission and why we do it.
Why are you a housing advocate?
I am a housing advocate because affordable, adequate housing is the base from which people of all incomes and backgrounds deal with their aspirations, jobs, problems, education, friends and family. We need a safe, healthy place to call home to begin from every day and retreat safely to each night. It is one of life's necessities.
What methods do you use to advocate for housing?
I try to use the best means of advocacy for my audience. I try to analyze how to best approach the person I am communicating with, what is important to him or her that relates to housing, how they prefer to receive information and how I can best organize my communications to obtain their support. That may be an email, a conversation, a letter, printed materials, a video or another person they trust to help me out.
What's your favorite advocacy story?
One of my favorites was trying to get support from a conservative legislator to prevent irresponsible housing lenders from operating in our state. The legislator was convinced competition was good and he asked for one good reason we should keep other lenders out of our state. I told him that if I did some bad loans in his district he can call me to the capital and kick my butt; however, if an out-of-state lender did some bad loans in his district, he couldn't reach their butts. He ended up supporting my bill.
What challenges do you encounter in advocating for housing, and how do you overcome them?
The challenges I most often run into are an assumption that people who need affordable housing must be doing something wrong; that housing is not a responsibility of government; that affordable housing does not create or support "real" jobs; and finally, that instead of funding housing we should invest our limited resources to promote businesses that create jobs and wealth.
My response to these challenges is to use examples of people who need affordable housing and who belong to a group of people that the speaker cares about; I try to make the connection between stable, vibrant communities that are necessary to support our fundamental way of life and the fact that decent housing helps prepare people to go to work every day and contribute to that way of life; I demonstrate that housing does create "real" jobs when it is built, maintained and operated; and finally, I argue that by supporting decent housing, government is making an investment in the people and communities that we need to make our towns, cities and country successful.
What advice would you give to someone who is interested in advocating but doesn't know where to begin?
That's easy: Find an organization that you like and believe in and get involved. Become a volunteer or join a board of directors. Once you are involved, the opportunity to become an advocate will present itself and you can learn how to effectively advocate for what you believe in.
Is there anything else you'd like to add?
Some simple things to remember:
First, always be professional. You may not always agree, but at some point you may need their support on something you do agree on. Don't jeopardize that future opportunity by getting personal.
Always tell the truth and answer the question, even if it isn't in your favor. You really want your listener to know they can trust what you say.
Always follow up on a commitment. Nothing destroys trust quicker than a lack of follow-through on your commitments.
Respond in a timely manner. By asking you for information, your requester is showing an interest in your subject and confidence in your ability to help. Build on that interest and confidence by providing the information or directing them to someone who can give it to them.
Finally, remember that you control your own credibility. If you don't know the answer, say so, and offer to try and find the answer. Work to earn trust and once that is achieved, you will be asked for your opinion and advice. That is where you want to be in the end: a trusted adviser on subjects you know about.