In honor of Women's History Month, YWCA board member Stephanie Ellis-Smith shares her reflections on making history by being part of the Women's March on Washington.     
I first decided to buy my tickets for Washington, D.C. in October.  
The presidential campaigns were winding down and feeling more uncertain with FBI probes and off-color remarks about women's body parts.  I figured that having tickets to the nation's capital during Inauguration weekend would be a good bet regardless of who won. I could always use the credit for the flights later and the hotel could be transferred to someone else if I decided to cancel.
But then November 8th came.  On the 9th, I knew I was going to D.C.
The decision to be part of the Women's March on Washington was an easy one. Not only to take a stand for feminism and women's issues – I felt compelled to go to voice my dissent at the election of what I considered to be one of the most dangerously unqualified and divisive presidents in our nation's history. For me, this was bigger than any one particular issue even though all of them resonated with me.
Overnight, we became a nation careening toward a new path fueled by the insecurities and fears resulting in large part from eight years of a black family occupying the White House. That we were "Making America Great Again" was a slap in the face and signaled the launch of the biggest backlash since Reconstruction. I needed to be there, at the seat of our nation's power, to register profound dissent.
Never before had I felt such an urge to protest – not even during the start of the Iraq War under George W. Bush or with the controversial start of his first term decided by the Supreme Court in 2001. This was different.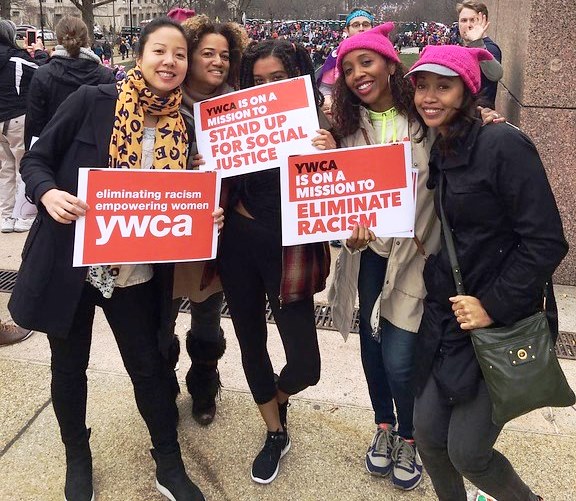 And so, there I was on my way to D.C. after a frantic stop at the YWCA at 5th and Seneca to pick up signs and t-shirts for my small entourage of like-minded women. We all marched for our own reasons, but all under the umbrella of empowering women and eliminating racism.  My sister and her friend came down from New York City, another friend flew in from LA, her daughter came in from Boston, and a local friend of hers was there too.The morning of the march was cloudy, but warmer than we anticipated. Meeting up with the marchers for the first time was unexpectedly exhilarating. So many people!! The energy, the spirit, the colors were all so overwhelming that I did something I've never done: I went live on Facebook.
Holding our YWCA signs and panning over the crowds towards the capitol, I took in an immense sea of humanity smiling, singing, laughing, drumming. The feeling was one of pure joy and elation. So many people!! So many in fact that we morphed into a "demonstration" as there was nowhere to march to! We milled about in one general vicinity and recorded witty and poignant signs, and made common cause with marchers from around the country. Our little entourage received encouraging high-fives, fist bumps, and even a few whoops for the YWCA.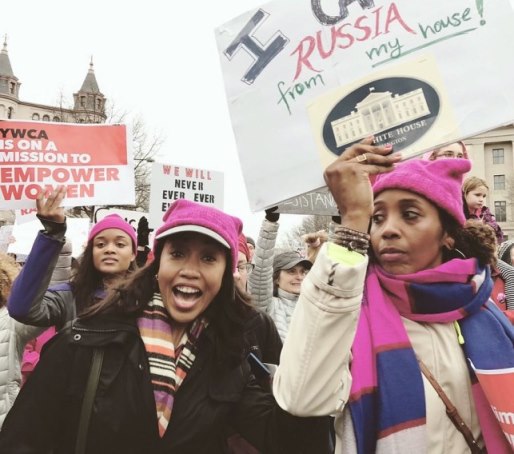 Aside from the personal uplift participating in the march gave me, I was moved to witness the level of national respect the YWCA commands. If I didn't know it before, I surely know now: being a part of the YWCA means leadership, power, and hope. Especially hope, for it and the actions we are compelled to take to support it embodies our mission to build an equitable society for all.

Please take action with YWCA on federal issues here and on state issues here.  And, thank you!