Early in the morning on February 2nd, seven YWCA staff drove to Olympia to represent our YWCA at the annual Housing and Homelessness Advocacy Day.  We became part of something bigger than ourselves – a movement of over 650 people united in our belief that everyone should have a safe and stable home.
It was an energizing day of learning about the issues, meeting with legislators and participating in rallies.  YWCA staff spoke up for policies and funding to increase affordable housing and end homelessness.  Our YWCA also was a sponsor of the event.
Maybe you thought about going and wondered what it would be like?  Check out reflections from YWCA staff who were there for the first time.
Reflections from Russell Paul Simmons
My first Housing and Homelessness Advocacy Day was deeply meaningful.
The sheer number of people that were willing to take time out of their busy lives to ensure their representative knew the depth of their commitment to other human beings was inspiring.

I loved hearing our raised voices bounce off the surrounding buildings as we stood out in the cold on the steps of our state capitol chanting our commitment for everyone to hear.
I felt lucky to be a part of District 43!  Our representatives are already supporting (or even co-sponsors of!) the legislation we were there to support. I was happy to be in a room with them, showing them how grateful we are that they share our values.
Reflections from Betty Jimerson                    
I'm inspired from attending the 2017 Housing and Homelessness Advocacy Day with my YWCA co-workers in so many ways.
The most powerful for me was attending the Housing Advocacy in Action Workshop.  It gave me the opportunity to understand the process for how bills and budgets actually get passed.
This was my first advocacy day and the fact that it focused on housing and homelessness felt very personal.  My family and I experienced homelessness not too long ago so I know firsthand how important it is that these bills get passed.
I was excited to have the group conversation with others from the 37th District  (Rainier Beach) with Representative Eric Pettigrew.  Last but not least, I met and bonded with Chris, a co-worker who also lives in my district.
I'm already looking forward to the next advocacy day and representing the YWCA.  I want to be part of helping change the problems in our communities and not being the problem!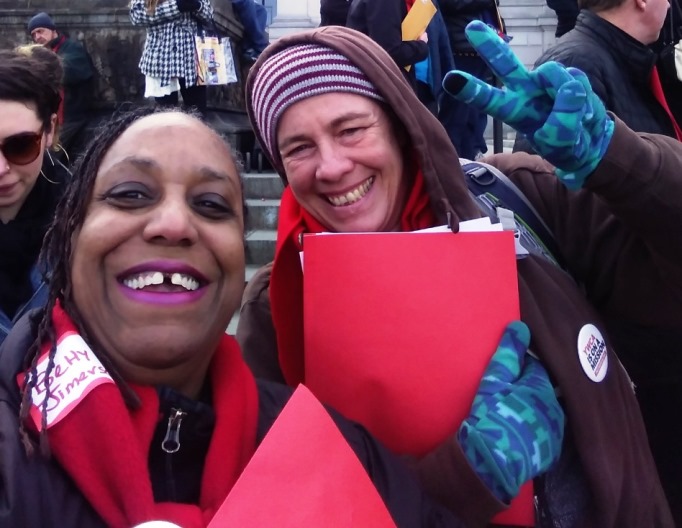 Reflections from Chris Doelling                                  
In the past, I avoided political action.  I couldn't see the point, any positive outcomes.   But after the election, I got concerned and thought  – What can I do?  I didn't really have a clear answer so I decided to try some things that I previously avoided.
And so I went to the Seattle Womxn's March.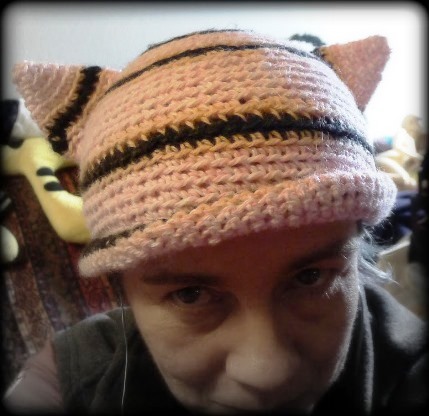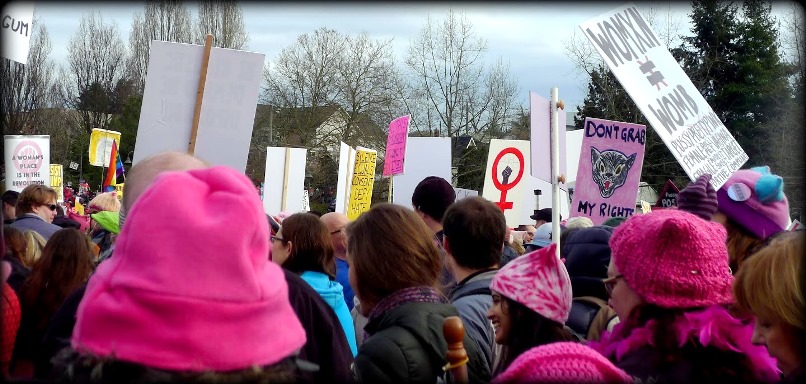 And then I learned about the Housing and Homelessness Advocacy Day.  Here was something I always wanted to do and so I went.
It was like a 101 crash course on how state government works!  I got to meet my legislators and hang out with my co-worker, Betty, who lives in the same district.  We were able to talk about our personal experiences and how it all impacts our work at YWCA.
What was my takeaway from the experience?  I was surprised how empowering it was that Representative Eric Pettigrew is my neighbor and I got to talk with him directly.
Later, I contacted my federal representative, Adam Smith, to let him know that I oppose the Steve Bannon nomination.
I also decided to give money to causes I believe it – organizations that are working on change on a national level like Southern Poverty Law Center, the North Dakota Access Pipeline Protest and the ACLU.
So now I've tried a few things and I have some other ideas about what might be next.  I plan to go to other community meetings and maybe some protests.  I'm keeping it open.  I might also boycott businesses as necessary and let them know why.
I'm just getting warmed up.
Are you ready to act?  The 2017 Housing and Homelessness Advocacy Day is over, but we still have time to fight for these issues.
Do you want to protect renters from discrimination?  Click here to take action!
Do you think our state needs more affordable places to rent?  Click here.
Do you want to increase funding for homeless programs and prevent a $70 million shortfall?  Click here.
Thanks for being an advocate!