Our series exploring student homelessness continues with contributions from youth working with the Zine Project. A program of Catholic Community Services, the Zine Project is an eight-week prevocational creative writing program serving homeless youth ages 15 to 22. Interns with the project are paid to make zines, personal publications consisting of original writing and artwork.
Zine takes place at University District Youth Center (UDYC), a homeless youth drop-in center in Seattle's U-District. Interns are hired on a first-come, first-served basis. Through Zine, youth without much work experience can learn employment skills in a supported program.
Today we share two interns's writings about school and home, as well as artwork. Thanks to Zine instructor Shaun McMichael for inviting the interns to write on this topic, and to the talented Zine creators for opening up and sharing their reflections. Visit the Zine website for more powerful poems and artwork.
---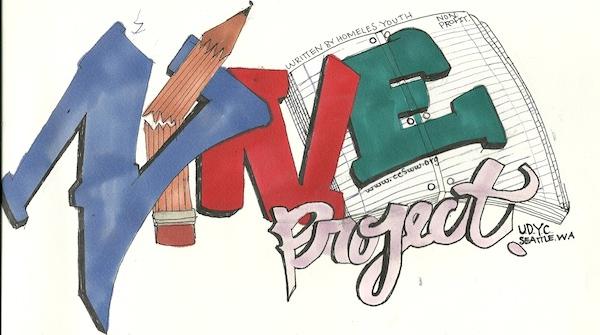 How It Really Was
by a young man
Going to school as a child coming from a lower class home was a very horrifying and traumatizing experience. Having family troubles, I felt like an outcast at school. Having nobody to talk to, nobody to tell about what was going on at home—not like I would've talked anyways—was torturous. Moving from school to school at least 10 times in five grades didn't help much either and the friends I did make would be gone in a month or two anyways. I hated being at home amidst the yelling and arguing or sheer craziness of my mother. School was an escape but only to a land of low self esteem which followed me all throughout my school career and into the real world.
Place
by a young woman
The place I call safe is anywhere from home. Growing up was a demented life and I put it in my mind that I wasn't going to be a nobody.
I always thought home was jail.
I went to school early morning, from school was to home, and from home straight to my bedroom.
Bed equals Sleep and I knew my day had to start all over again the next day and the days that were next. I never really wanted to live how I lived but it ended up happening anyway.
I could smell the stink coming from downstairs and it was a tense smell. The smell was crack and I knew my life was just the beginning.
My G-ma's house smelt like old lady but I loved her anyway. Night after night, I was wondering what my life was going to be like when I got older.
But I never knew I was going to make it to see my age 18. Well, I'm 18 now and happy but you never know what's in store for you next.
---
The author of "How It Really Was" writes about the isolation he felt when poverty forced him to move from school to school. This continual switching of schools is also academically devastating. As we shared in a previous post, students fall further behind every time they move. It takes children an average of four to six months to recover academically after changing schools. 
"Place" mentions school as an escape, but focuses on the tense situation at home, which doesn't really feel like a safe home at all. How might this type of home life affect the student's school life?
Please share your comments about these poems below, and stay tuned to our "Back to School" series. Tomorrow YouthCare's executive director writes about helping young people who don't fit into the school system earn their high school diplomas and GEDs.