27,390. We've been sharing that number a lot this week because it's how many students in Washington state have been identified as homeless. What that number doesn't include is the thousands of young people who have left the school system because of homelessness. Melinda Giovengo writes today's guest post about how flexible high school completion and GED programs can help homeless young people find a path to post-secondary education and successful careers. 
---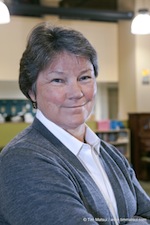 By Melinda Giovengo, executive director of YouthCare 
I love back to school time. There's so much promise in the air – blank notebooks waiting to be written in, new pencils waiting to be sharpened, and empty backpacks waiting to be filled. But this time of year is bittersweet for me – those backpacks waiting to be filled remind me that so many homeless young people are filling theirs with survival needs instead of books.
For a young person who doesn't know where she'll sleep at night, making progress in school is nearly impossible. Many of the youth we serve have fled abusive or neglectful family situations, or been kicked out by parents or caregivers (often for coming out as LGBTQ), meaning they are on their own without a caring adult making sure they do their homework each night, or helping them with a math problem. It's no wonder that up to 75% of homeless young people leave school without graduating.
But we know that without a high school diploma or a GED, a young person is very unlikely to get out of the cycle of homelessness and poverty. Despite Seattle's economic recovery, the youth unemployment rates remain dismal and entry level jobs scarce. A diploma opens up doors to post-secondary education and a meaningful career path for young people – and, after 40 years of working with homeless young people, that is the best way we at YouthCare know how to help young people move on from surviving on our streets to thriving in our community.
The programs that will best engage homeless young people to get on this path must be targeted to their needs. They must:
Work with a variety of learning styles, paths, and goals and include both high school completion and GED options. Seattle Public Schools Interagency Academies are alternative high schools with individualized education plans at sites around the city, including at YouthCare, where youth work at their own pace toward a high school diploma with accredited teachers. YouthCare also offers a GED program, which is highly flexible: youth can work at their own pace, be it two months of studying or two years. This approach is working: we enrolled 71 students in 2012; by the end of the year, 72% had completed at least three of the five necessary tests and 33 young people had obtained their GED.
Be integrated into "wrap around" services that include meeting basic needs, helping youth connect to shelter, housing, or family reunification where appropriate. For example, YouthCare's education programs are housed in our James W. Ray Orion Center; a young person can spend the night in our shelter, wake up and eat breakfast, study for their GED, eat lunch, and then meet with their case manager in the afternoon.
Adapt to the young person's timeline. If a young person walks in the door and says, "I'm ready to start working on my education again," we need to be ready to help them do just that. Asking them to come back next month or next academic year means we may have lost them forever. Young people dealing with housing instability also may need to take a break and come back later; our GED program offers them flexibility to do just that.
This fall, we will continue our work to help young people move forward with their education, using this approach. We will pass out pencils and protractors to fill those backpacks, along with socks, warm clothing, granola bars, and all the other survival supplies our students depend on us for. And we will advocate for continuing to expand educational opportunities so that we can change the odds for our community's homeless young people.
I hope you will join us. Volunteer meal groups are key to providing three meals a day at YouthCare's drop-in center, helping kids fuel up for a day of learning. Community members can host a drive to collect school supplies, or warm clothing, socks, underwear, and other year-round needs that help us keep young people ready to learn. Together, we can help homeless youth head back to school.