Written by guest blogger, Michael Blumson, Housing Development Associate at Common Ground (photo credit to SKCCH)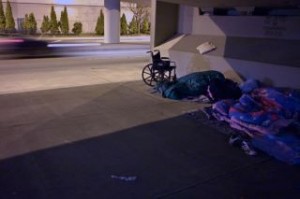 This was my fourth year venturing out on the One Night Count.  Reflecting back, I find myself trying to collect thoughts and emotions running in two different directions.  I am of course inspired and honored to be part of the 800 plus people who volunteered to make our count as thorough and successful as it was. I'm impressed by the first-time counters on my team who showed such willingness to dive into thickets to search as meticulously as possible.  And then there's relief that we've grown as an impactful cultural force in the city.  Policy makers and citizens take legitimate notice of the count efforts.  Lastly, I feel a personal satisfaction about being able to once again tangibly contribute to ending homelessness, a cause I've devoted my life to.
On the other side, I'm saddened that this huge outpouring of civic virtue produces a catalog of our failures as a culture.  It's troubling that I can encounter so many people in need and the most I can offer is a checkmark in a notebook, as I turn my back and leave them to be a part of an anonymous statistic.  I'm frustrated that this count, like so many others, is bracketed by public statements saying there won't be funding this year for this or that program because of budget cuts.
Despite the conflicting feelings, I'm going to be out again next year.  In part, because it's necessary.  The One Night Count is our best source of data describing our society's homelessness status on the macro-scale, and it directly ties to the amount of public funds sent to our counties and cities.  But also I think the count represents advocacy that is fundamentally different than the other forms of service in the community.  This isn't to say it's more valuable. Volunteering labor, donating money, writing letters, and speaking to legislators are the legs on which we stand or fall in this fight against homelessness.  But the count for me bridges the gap between direct service and the behind-the-scenes work. It's the thing that keeps the images and faces of homelessness fresh in our minds when we speak to legislators and tell them that solving this problem really matters.
The Count takes the facelessness of our policies and data gives them physical forms huddled under pile of blankets in the dark.  It is administrators and line staff, politicians and citizens coming together to physically reach out into the night, and yet having nothing more to offer and returning with their hands untouched. It is the juxtapositions of success and failure, hope and fear that move the issue of homelessness from sound bites to reality.
This is a big part of why I appreciate the work we do at Common Ground, filling the spaces between these poles.  I personally love helping groups and organizations, many of whom have never attempted to build housing before, create affordable homes.  We help them navigate the regulatory expanses of the often complicated process, while at the same time using these buildings as a striking image to inform policy makers about the reality of the solutions.  When I walk past newly constructed or renovated affordable housing, I see the dark images of the One Night Count transformed into a vision of a better and brighter world.
---
We appreciate all the volunteers that advocate in this way. We also applaud the Seattle King County Coalition on Homelessness for connecting the policy dots and providing ways for their volunteers to advocate for change, as seen in their postcard handed out to volunteers during the One Night Count.