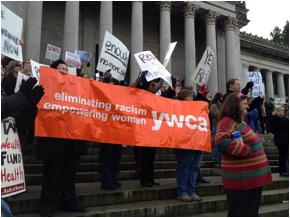 Written by Erin Murphy, Director of Education and Advocacy Network at the YWCA Seattle I King I Snohomish.
Still not convinced that you voice can really make a difference? Well, on Wednesday, ESHB 2048, the recording fee bill we support, passed unanimously out of the Senate committee it was in—the first time such recording fee legislation has ever received a unanimous vote. In large part because our legislators have heard from so many of us on this issue!
When good things happen, it is important that we thank those involved. Good etiquette applies to the legislative process too!
Thanking Committee Members
We want to give significant positive reinforcement to the seven Senators below who voted yes for this bill.  The Seattle YWCA alone will receive $460,000 this year in program support generated by the bill fees, if it makes it all the way through.
Senator Hobbs, the Chair, was especially helpful in getting all committee members on board as was the prime sponsor in the Senate, Sen. Kohl-Welles. We thank them both! We also continue to urge them and others to continue to do all they can to help this legislation be enacted.  It supports many successful programs and services that prevent and end homelessness across our state.
All the Senate Committee Members who just considered the bill are below and we thank them all for their unanimous votes in favor of supporting homeless programs:
Hobbs, Steve (D) Chair | District 44
(360) 786-7686
Steve.hobbs@leg.wa.gov
Prentice, Margarita (D) Vice Chair | District 11
(360) 786-7616
Margarita.prentice@leg.wa.gov
Benton, Don (R) | District 17
(360) 786-7632
Don.benton@leg.wa.gov
Fain, Joe (R) | District 47
(360) 786-7692
Joe.fain@leg.wa.gov
Haugen, Mary Margaret (D) | District 10
(360) 786-7618
Marymargaret.haugen@leg.wa.gov
Keiser, Karen (D) | District 33
(360) 786-7664
Karen.keiser@leg.wa.gov
Litzow, Steve (R) | District 41
(360) 786-7641
Steve.litzow@leg.wa.gov
Next steps
The bill goes back to yet another Senate committee and may get a vote next week.  So there will be more news and action needs coming in the near future!
We are in the final few weeks of the session and it is make or break time.  We truly need a strong collective effort to move this bill to the Governor's desk.
Action call
Visit our Policy Priorities to learn more. With your help, a bill has a good chance of passing, and we can look forward to even more thank yous to our legislators!