Written by Peggy Liao, Firesteel Advocacy Volunteer, MA in Social Design
A new website, WeCount, enables people who experience homelessness to get what they need, and also gives everyone in the community an opportunity to see the beauty of helping each other.
When I first mentioned this website to a friend, he replied, "Oh, they do housing?"
When we talk about what homeless people need, we often think of housing. But what we often overlook are daily necessities such as dry socks or tampons. These are also needed, sometimes urgently.
Aside from hygiene products, you can also find backpacks, tents and smartphones on WeCount, which was just launched this June in Seattle. This platform links technology and the internet to people's needs.
When you are in need, you can get online and ask for an item; when you have more than enough, you can get online to offer help. Your item will be exchanged at a community space, usually a homeless shelter or a social service center. So far there are 900 active members online, and on average four items are exchanged every day. While it's just in Seattle for now, many cities hope to invite the WeCount team to bring this innovative platform into their communities.
How did WeCount decide to do this? They did not design the website with a predetermined idea. Instead, the WeCount team spent six months talking to, observing, and understanding people experiencing homelessness as well as social service providers to find out the real problem to tackle.
When asking,"What are the things that people generally need in society?" the team got lots of answers like money and education. When asked, "What do people who are experiencing homelessness need?" interviewees started thinking and answering based on their life experiences. Lastly, when they asked, "What do you need today and how will you get those things?" people's answers reflected their daily realities. Without a permanent dwelling place, people need things that others sometimes take for granted. WeCount decided to use technology to help provide immediate needs in a timely manner.
Their design process is human-centered and relevant to the real problem.
Graham Pruss, co-founder of WeCount, has experienced homelessness himself. He is passionate and energetic. When talking to him, I could see that his warm, open-minded character was truly dedicated to the life-long mission of ending homelessness. To Graham, WeCount is the first step in a mission to build a community safety net for everybody. He had a safety net that helped him go through an unavoidable difficulty in life, and it is because of that net that he's now able to help other people. WeCount is not a website for free stuff; it is a fire starter for many people who are in a dark situation.
Graham told me a story about Ann,* who recently donated some items on WeCount. One day, Ann was in a Whole Foods parking lot where she encountered Sherry,* who is experiencing homelessness. Instead of giving Sherry money, Ann did something different.
Ann said, "I know a shelter close by; I just donated an item there. They might be able to help you. Have you tried them?"
Sherry replied, "Where's the place? I need help!"
Ann offered more substantial support to Sherry by connecting her with resources, and Ann's now a regular volunteer with WeCount.
This is the starting point of Graham's safety net vision. Ann is now a node of a safety net in her neighborhood. She helps people not only survive tonight, but also improve tomorrow through a conversation, through understanding the issue better, and through supporting others.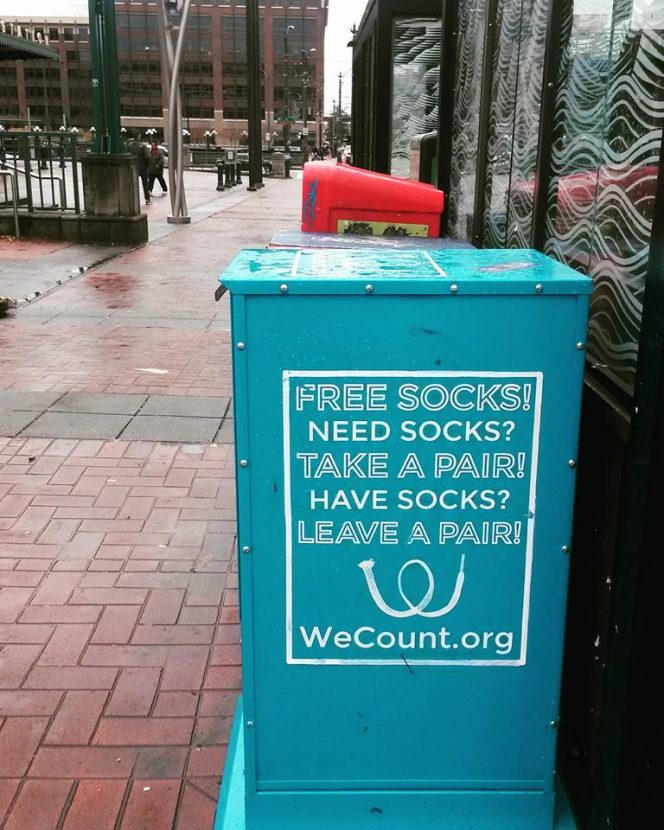 Not long ago, WeCount put up 12 Box of Sox locations in the city. In each box you will find dry and clean socks for everyone who can use them. These blue metal boxes stand as lighthouses in our community to remind people to take and give back.
Here is a quote about a box that I found on social media from a person living on the street: "That is the most amazing thing I've ever seen. We need it so much out here, you don't even know how much that helps us."
Nobody can really solve homelessness on their own. But collectively, we can bring a better solution to the problem. If you want to be part of the safety net, you can sign up for an account on WeCount, fill up the Box of Sox in your neighborhood, or share this story with your networks.
 More ways to help:
Learn more. Listen to

StoryCorps

conversations between people who have been directly affected by homelessness.

Subscribe to this blog, and we'll keep sharing ways you can help end homelessness. Simply scroll down and enter your email address.
*These people's names have been changed to protect their privacy.