Written by Denise Miller, Firesteel Advocacy Manager
This fall, a group of my YWCA Seattle | King | Snohomish colleagues have dedicated themselves to helping their communities register to vote. Jackie Jasso-Martinez, April Hill, Stephanie Martinez, and Gabriela Picazo have each committed to helping 20 people register in time for the Nov. 8 general election, and they're well on their way to meeting their goals.
They've been registering people both during and after work. While helping YWCA program participants enroll in health care programs, Gabriela also invites them to fill out their voter registration. The group have set up booths at a YWCA community health fair, a library, and a church. They've also been reaching out to their online networks with reminders to register in both Spanish and English. Here's a video Jackie published on her Facebook page:
Voter registration is not part of my colleagues' job descriptions, but this initiative is part of their professional and personal efforts to advance social justice.
"My biggest reason for voting and also getting out there and getting people to register to vote is that there are so many people in the United States who have many barriers in their way that do not allow them the ability to vote. The right to vote is something that everyone should ideally have, but because of various systemic and institutional issues, many people — especially marginalized groups like people of color — do not have the chance to even register to vote, much less actually get to vote," Stephanie said.
"I want people to have a voice," April said. "Maybe if they see other people who reflect them, they will speak up. Maybe they will take hold of their voice and let other people hear it."
Much is at stake in the Nov. 8 election.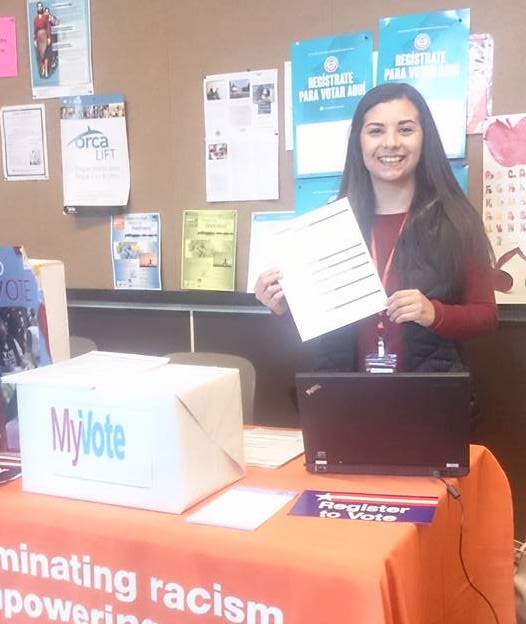 "Many people think that the November ballot is all about the president, but it is so much more than that! We are voting for different policies, senators, representatives, governors, city officials, etc.," Stephanie said.
Gabriela agreed: "There are initiatives that can truly impact Washington. For example, there's the initiative to increase the minimum wage and have paid sick days. For the people we serve, those are big issues."
For Jackie, the outreach efforts have created and strengthened relationships with co-workers and other community members.
"When we are in touch with people, talking about voting, they are taking it seriously. And they open up with their thoughts and feelings," Jackie said. "I can feel that they had that relief that they had someone to talk about it with."
Jackie said her presence encouraging people to vote has had a ripple effect; the people she meets in turn talk with their friends and families. She knows this is happening because she's received more than a dozen calls from people she hadn't met, and she coached them through the online registration process in Spanish.
Ultimately, for April, these efforts are about ensuring the best possible future for her family.
"I have kids in school here. They're inheriting what we leave behind," April said.
Register to vote
To vote in the November election, register to vote or update your address online by Oct. 10. The final deadline for in-person new voter registration is Oct. 31.