Written by Denise Miller, Firesteel Advocacy Manager
Last week, I joined 700 fellow advocates in sunny Spokane for the Washington Low Income Housing Alliance's Conference on Ending Homelessness. Each year, the conference offers opportunities to learn, gather resources, and meet lots of great people. I'm excited about new connections I made with individuals who have personal experience with homelessness, including graduates of the Housing Alliance's excellent Emerging Advocates Program. Look out for some of their stories soon on this blog!
In the meantime, I want to share a couple of online resources that were presented at the conference:
"Homeless in Bellingham" Video Series
This powerful online video series is produced by Fredrick Dent and Lisa Spicer for the Opportunity Council in partnership with Whatcom County Coalition to End Homelessness.
Opportunity Council Executive Director Greg Winter (who you may recognize from his Firesteel "I'm An Advocate" interview) explained that the web series was created in part to respond to misconceptions about homelessness that were rising up in his community.
The videos explore issues that are relevant to communities across our state, and do so with compassion. Topics include mental illness, addiction, health care, and foreclosure. One video, which features the stories of LGBTQ youth who have experienced homelessness, is particularly moving:
All the videos bring human faces and emotions to complex issues, and can be a helpful resource for starting conversations about the causes and realities of homelessness. Watch and share the 11 episodes already in the collection, and stay tuned for more that are in production.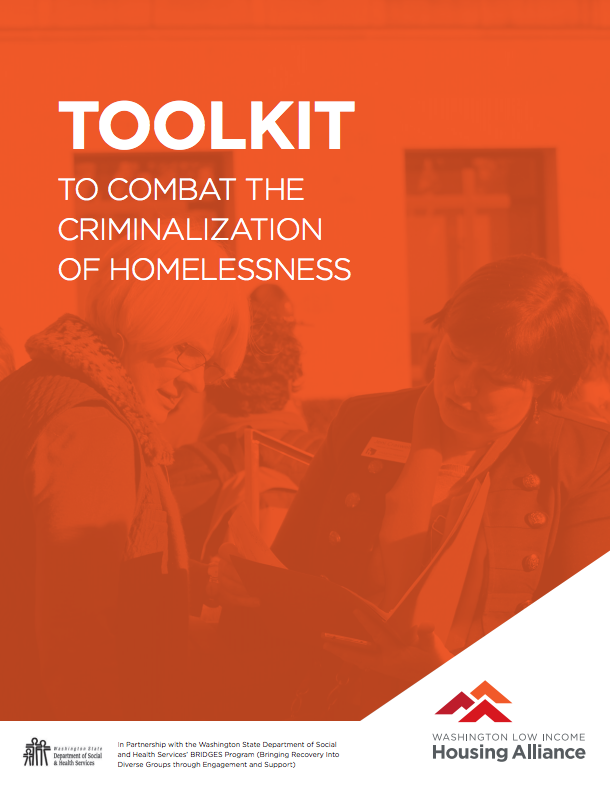 Toolkit to Combat the Criminalization of Homelessness
Seattle University School of Law's Homeless Rights Advocacy Project recently released six reports on the effects of laws and policies that criminalize homelessness, such as prohibitions on living in vehicles, sweeps of tent encampments, pet ownership standards, and barriers to access at emergency shelters.
In conjunction with the reports, Washington Low Income Housing Alliance released a toolkit designed, in their words, "to help advocates, direct service providers and other community stakeholders to:
Articulate the harms that the criminalization of homelessness causes and educate decision makers about alternatives, using local and statewide data and lived experiences.
Develop effective relationships to move key decision makers.
Respond to common myths that underlie criminalization policies, and advance a new public narrative about ending chronic homelessness."
The toolkit includes a checklist for planning a lawmaker meeting, a guide to reaching your audience, and other helpful information that will help you be an effective advocate not only for ending the criminalization of homelessness, but also for other movements that advance social justice. Check it out!