Written by Denise Miller, Firesteel Advocacy Manager
A typical StoryCorps recording is a 40-minute interview between two people who know each other well. Last summer, I helped coordinate dozens of StoryCorps "Finding Our Way" conversations about family homelessness. One participant, Charlotte Wheelock, came to her recording session with her two young sons, but without anyone to join her in conversation.
I volunteered to interview Charlotte, and soon learned that she didn't know many people in Seattle. She'd come to the area for a job that didn't pan out, and her husband was in the hospital with spinal stenosis, a condition that had him paralyzed from the waist down.
Charlotte told me about struggling with her husband's health problems and medical expenses. She told me about losing her home when her family could no longer pay the bills. She told me about trying to maintain some sense of normalcy for her boys, even when they were sleeping in their car in the hospital parking lot.
I was in awe of Charlotte's strength, and also of her openness. My heart went out to her. In my own family, an illness and subsequent job loss devastated a close relative's finances. Her home was foreclosed, and she slept on another family member's couch until she could stabilize and find a new job.
Many families are just one crisis — one illness, one car accident, one job loss — away from losing their homes. For those who fall into homelessness, it can take months or even years to recover. Charlotte and Nick's family experienced homelessness for 14 months. Fortunately, there were some programs in place to help them through, including a family shelter where they stayed for several months.
Knowing Charlotte's candor and her powerful story, I wasn't surprised that our partners at StoryCorps were interested in following up with her for another interview. Exactly six months after our original conversation, Charlotte sat down with StoryCorps once again. This time, her husband, Nick Hodges, was out of the hospital and there to join her. After spinal fusion surgery, and months of rehab and physical therapy, Nick was able to walk again. And he and Charlotte walked into a room to record a beautiful conversation, which airs on KUOW today. You can hear it between noon and 1pm on The Record, or listen online.
What a difference six months had made. Their family was living in an affordable apartment, and Charlotte had a job with Mary's Place. She now helps women transition from homelessness to employment and stability.
Charlotte's story reminds me of why we do our advocacy work. Last week, when our state lawmakers passed a budget that included $75 million for the Housing Trust Fund, they invested in safe, affordable homes for families like Charlotte's. And they ensured that more of the 32,000 homeless schoolchildren in Washington state would have a stable home and a better chance at succeeding in school.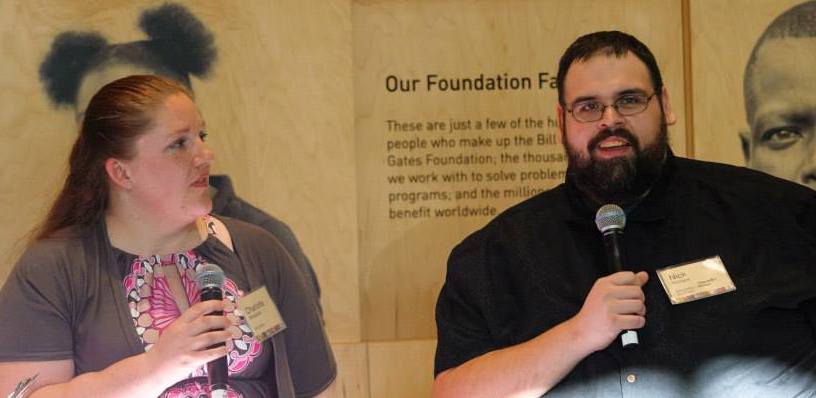 Charlotte also reminded me of the power of listening. I knew that the experience of talking with Charlotte had stuck with me, but I didn't learn until later what our conversation had done for her. I recently saw Charlotte and Nick at an event co-presented by KUOW, StoryCorps, the Bill & Melinda Gates Foundation Visitor Center, and Seattle University's Project on Family Homelessness. StoryCorps producer Eve Claxton interviewed Charlotte and Nick onstage, and Charlotte talked about how therapeutic it was to really discuss her situation for the first time.
After the event, Charlotte told me that when she lost her home, she had also lost her sense of community.
"Talking with you was a first step to rejoining the community," she said.
That statement was incredibly moving to me. I couldn't offer Charlotte a job or a place to live. What I could do was listen, share her story, and advocate for policies that will help end homelessness. I hope you will do the same.
GET INVOLVED
Have the "Finding Our Way" stories inspired you to help families who are experiencing homelessness?
Start by sharing these stories with your friends, family, and policymakers.
Volunteer with an organization like the YWCA or Mary's Place. Nick said that when his family was staying in a shelter, it was an "amazing relief" to have volunteers spend time with his sons, giving him and Charlotte a few minutes to relax.
Thank your state lawmakers for investing in affordable homes through the Housing Trust Fund. It's quick and easy to send a message using this form from the Washington Low Income Housing Alliance.
Check out a list of 10 things you can do to help, compiled by Seattle University's Project on Family Homelessness.
HEAR MORE STORIES