Written by Denise Miller, Firesteel Advocacy Coordinator
After the Great Recession hit, Sherry and Franklin Gilliard lost their small business and fell behind on bills. It was a scary, lonely time, and they didn't reach out to friends or family when they were evicted from their Tacoma home and moved into a shelter with their three children.
Fearing judgment from a society that stigmatizes poverty, the Gilliards kept their experience with homelessness secret — until the day it became very public.
Last fall, the day after Thanksgiving, an edited version of a conversation they had recorded with StoryCorps aired across the country on National Public Radio. They'd made the recording a few months earlier as part of the "Finding Our Way: Puget Sound Stories About Family Homelessness" project. Longtime fans of StoryCorps, Franklin and Sherry relished the opportunity to join the project, and to take time to engage in a meaningful conversation.
Enthusiastic as they were about the project, the Gilliards didn't know what to expect after sharing intimate details about a difficult time in their lives.
In the story — which is airing again today, this time locally on KUOW — Sherry talks about hiding her homelessness from co-workers:
I remember walking to the shelter after work at school, and, you know, the school bus was pulling up and I knew the school bus driver. I remember pulling my hood over my head because I was embarrassed — I didn't want her to see me, you know. Or a colleague says, "We're going to go volunteer and we're going to feed the families," and it would be at my shelter. And I would tell my husband, "We cannot be here for Sunday dinner because the colleagues from my job are going to be serving food."
Last month, Sherry and Franklin talked about the aftermath of their story airing on NPR. They were featured speakers at an event that Firesteel co-hosted, along with Seattle University and Catholic Community Services of Western Washington, at the Conference on Ending Homelessness.
Tanya Mettlen, the Catholic Community Services clinical supervisor who'd invited the Gilliards to participate in the StoryCorps project, asked about the consequences of their story becoming public.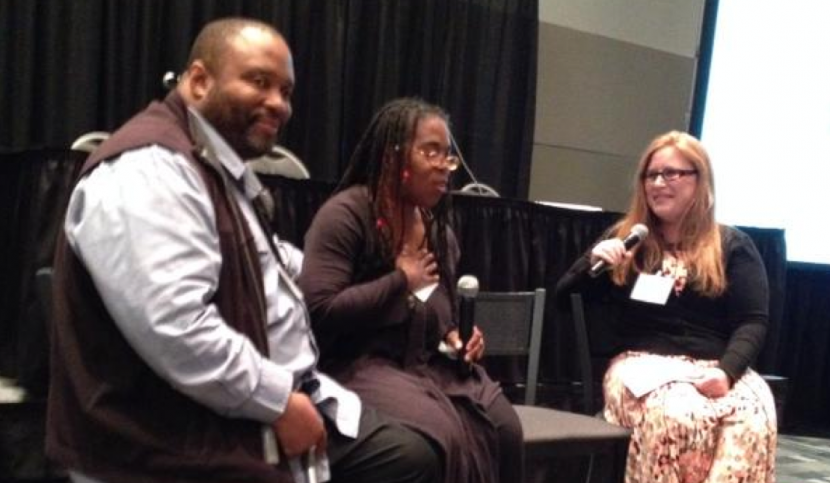 Sherry said it was shocking to see their image come up in results when she googled herself.
"For years, my face has never popped up. Now, boom, there you go," she said. Suddenly, their story was all over social media, and it was attracting lots of online comments. Sherry said she avoided looking at the comments, but she did notice that she got the cold shoulder from some people she'd considered friends.
"The phones were quiet, and certain phone calls were not being returned. At some schools that I sub at, certain colleagues don't sit with me," she said.
In other cases, though, relationships changed for the better. Franklin said he's connected with some co-workers who have also experienced homelessness.
"Giving people my story makes them stronger. They know that people can relate to them, and people are not always looking down," he said.
Sherry's colleague told her she shares the Gilliards's story with students who are experiencing homelessness to help them feel less alone.
As Paige McAdam recently wrote on this blog, stories can bridge gaps between one person and another. This can help drive social change, something that Franklin said was sorely needed.
"People want to work, and they want places to live that are affordable," he said.
Asked if they would choose to participate in StoryCorps if they had it to do over again, Sherry and Franklin's answer was a resounding yes.
Hear more stories
Listen to more "Finding Our Way" stories produced by StoryCorps on KUOW every Tuesday, now through July 7.
Find even more "Finding Our Way" stories, produced by Seattle University's Project on Family Homelessness and Firesteel, here on the Firesteel website.
Stream other StoryCorps conversations on the StoryCorps website, or subscribe to the StoryCorps podcast.
Get involved
Has the "Finding Our Way" project inspired you to help families who are experiencing homelessness? Start by sharing these stories with your friends, family, and policymakers! And check out a list of 10 things you can do to help, compiled by Seattle University's Project on Family Homelessness.