Written by Denise Miller, Firesteel Advocacy Coordinator
Today is National Voter Registration Day! Presidential elections tend to get more attention than midterms, but we need to make some key decisions for our country and our communities this year. You can only vote if you are registered, so I'll hope you'll take a moment to register or update your address.
To inspire our readers to take this crucial step, we invited a variety of people to tell us their thoughts on the importance of voting. On Friday, YWCA resident Lakesha reminded us how easy it is to register and vote. Yesterday, high school student Leyi shared why she looks forward to making a difference through her vote when she's old enough. Today, YWCA Seattle | King | Snohomish staff member Imelda explains her motivations for participating in the democratic process:
She also recorded a Spanish-language version of this video.
Imelda told me that when she votes, she feels like she is saying thank you to the women and people of color who fought for the right to vote. (For a refresher on voting rights movements, check out this video from Rock the Vote and read Jocelyn Y. Stewart's article "People Died So I Could Vote.")
Unfortunately, many women and people of color do not take the same opportunity to thank civil rights leaders by voting. The nonprofit, nonpartisan organization The Voter Participation Center reports that nationwide:
39 percent of unmarried women who are eligible are not registered
37 percent of African Americans who are eligible are not registered
48 percent of Latinos who are eligible are not registered
Candidates tend to pay the most attention to groups of people who vote. Women and people of color can have a stronger influence on policy matters — including laws and budgets that will help end homelessness — through voting, and encouraging their friends and family members to join them.
At the signing of the Voting Rights Act nearly 50 years ago, President Lyndon Johnson said, "the vote is the most powerful instrument ever devised by man for breaking down injustice." It's time for ALL of us to rise up, make the most of this instrument, and register to vote. Click the image below to get started: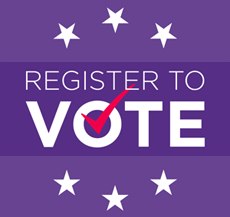 What you can do
Register to vote, or update your registered address. Not sure if you're eligible to vote? Visit the Secretary of State's website to find out.
Are you a homeless service provider? Help your program participants register to vote. The Seattle/King County Coalition on Homelessness has a useful Homeless Voters' Information Guide.
Share this post on social media. It may be just the reminder your friends and family need to register!
Subscribe to this blog, where we'll keep sharing more compelling reasons you should register and vote. Simply scroll down to the subscribe box and enter your email address.