Interactive content, such as polls, quizzes and photo contests, are effective ways to increase engagement. In this podcast, we share ideas for using interactive content creation tools like SnapApp to advance advocacy.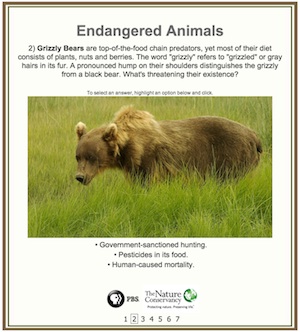 Resources
On the right is a screenshot from the PBS endangered animals personality quiz created with SnapApp. You can also check out the Julia Child personality quiz that we mention in the podcast.
In addition to SnapApp, you might try ShortStack, Pagemodo or GroSocial. Most offer a free trial version, so you can test them out and decide what works best for your advocacy needs!
We want to hear from you
Have you created interactive content? Tell us about it by leaving a comment below!
---
At Firesteel, we test a lot of new media tools as we advocate for an end to homelessness. The purpose of the Spark Change podcast is to share what we've learned, and to help other advocates use these tools. Check out our first podcast about Google+ Hangouts, and please let us know what you think of Spark Change so far! Your feedback will help shape future episodes.
Subscribe to Spark Change on iTunes and never miss an episode!