Catherine Hinrichsen is truly one of our favorite guest bloggers and always blows us away by being so thoughtful and thorough. She has written some of our top read blog posts like this one last year about homeless students. So while we usually have a maximum length for our blog posts, Catherine is such a quality contributor that she has earned a pass and has our permission to write pieces that are however long she wants! We hope you enjoy this timely holiday "Culture Watch" post. I definitely want to stream this episode on Hulu after reading Catherine's personal take on it! – Erin
---
By Catherine Hinrichsen, Seattle University's Project on Family Homelessness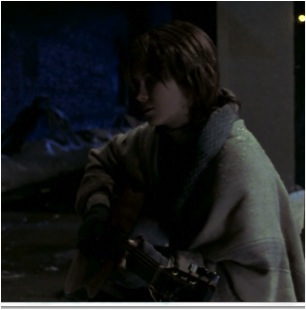 Here's a typical TV show Christmas episode that features a young woman as the main character:  The girl wishes the dreamy guy will ask her out, and 22 minutes later, a Christmas miracle happens and they share a mistletoe kiss.  (Didn't I just see something like that?)
But that's not how "My So-Called Life" did it.
Instead, here's a glimpse of Christmastide on this ground-breaking drama:
On a dark street, a teen boy crumples and falls into the snow, blood pouring from his face.  Weeping, he forces himself back up on his feet. We see that it's one of the show's main characters, Rickie.  (Oh nooo!)  Clutching his thin overcoat around him, he stumbles away down an alley.  Nearby, an enigmatic teen girl watches him passively as she gently strums "Silent Night" on a guitar.
The girl wears fingerless gloves, tattered jeans and an ill-fitting coat that looks more like a blanket; her hair is rumpled and her boots are worn.  It's probably too late for her to be out by herself, and in this sketchy neighborhood, but does she have a place to go?  Does Rickie?
This powerful episode takes us on a journey contrasting a middle-class family's Christmas splendor with the harsh life of teens living in homelessness.
Had there been anything like this ever on TV?  When did we ever see any homeless people portrayed with compassion?  Do we now?  Sure, back when "Glee" was good, there was a homelessness teen storyline for the character Sam in season 2; but that was almost 20 years after MSCL.
This is why the "So-Called Angels" episode of "My So-Called Life" is my favorite Christmas episode of any show ever:  Because it's a seasonal slice of a tremendous show, and because now, when I watch it again as a parent and as an advocate to end family homelessness, I see so much more.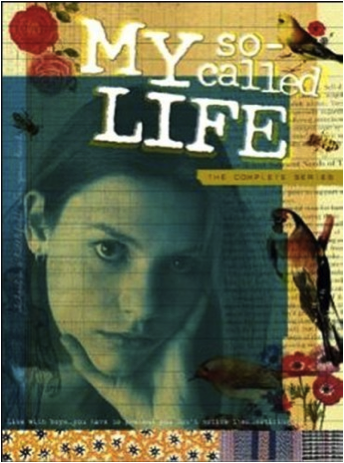 Even now, as I reflect on it a few days later after watching it for the first time in years, I realize once again that there's even more being said.  Rickie's struggle introduces the idea of "social capital," or the importance of a supportive community, a crucial element in preventing homelessness. Without it, we see the terrible toll when people turn their backs on someone in need.
Big influence in a short time
First, here's what you need to know about "My So-Called Life" if you've never seen it. The show had a tremendous impact in its short run (1994-1995), paving the way for numerous other acclaimed dramas.  Showrunners like Joss Whedon praise it, saying that it was a major influence on "Buffy the Vampire Slayer."  Its writer Jason Katims went on to be showrunner for "Friday Night Lights."  Lena Dunham credits it as an inspiration for "Girls" — not surprising, since her characters are in their 20s but act like they're still 15. (Just ask Blerta from Albania!)
The young unknown stars of MSCL moved on to acclaimed careers.  Most notably, Claire Danes, who played the main character, Angela Chase, became a breakout at 15 and won the Golden Globe for Best Actress-Drama; she recently won Emmy Awards for the HBO movie "Temple Grandin" and for her role as Carrie Mathison in the acclaimed HBO drama "Homeland."  Heartthrob Jared Leto is better known to young audiences for fronting the band "30 Seconds to Mars," but is earning raves for his role in the just-released film "Dallas Buyers Club," for which he just earned a Golden Globe nomination.
Kind of bizarrely, Wilson Cruz, who played Rickie and has had a successful acting career, has been in the news this very week in a major cultural firestorm.  It's all kind of mind-blowing to me, considering what happened to him 20 years ago.  You have to read on to find out what that's all about.
I'm not alone in treasuring this episode. In 2010, Entertainment Weekly called it one of 27 classic holiday episodes; and TV Guide named it among the top 15.
As you'll hear if you watch the DVD commentary, the show was also a major step forward for gay teens and their ability to express their true selves. It also reunified a family. Read on.
Realistic portrayal of teens
Above all, those who loved the show, and tried in vain to save it in one of the first online viewer campaigns ever, remember it as the first — and maybe most — realistic teen drama ever on television.
Danes played Angela as a sweet, well loved girl struggling with cherishing her family and trying to break free of them at the same time.  Angela is learning about life in ways that feel very real.  She sees that quite often it's about not getting what you want, that you outgrow childhood interests and longtime friends, that maybe your parents are going to let you down no matter how hard they try and that sometimes good people – even kids – suffer. And all this can happen even at Christmastime.
Angela has pushed away her longtime best friend, the annoying goody-goody Sharon, replacing her with the fun-loving, hard-partying and minimally parented wild child Rayanne.  Through Rayanne, Angela has befriended Rickie, another outcast, whose troubles begin with the fact that he's gay in an unaccepting world.  She spurns the nice boy Brian and longs instead for the troubled Jordan Catalano (Leto), feeling that she alone recognizes his depth and brilliance.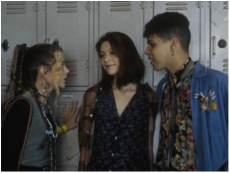 And she does it all while clomping around in Doc Martens and great little thrown-together yet stylish grunge-girl outfits, in which she tries both to hide and to make a statement.
It's a home where the children are central, secure in their parents' love and certain of their family stability. Or so they believe. This is another of the show's strengths: that we see the parents, Patty and Graham, as humans too, who struggle with their parenting, who make mistakes and castigate themselves for it, who try to keep their marriage strong and their family unit thriving through challenges, and stay close to the daughter they adore despite the hurricane known as the teenage years. (Here, they owe a debt to "Ms. Romano," as portrayed by Bonnie Franklin, who died earlier this year. But I digress.)
"A runaway or a throwaway?"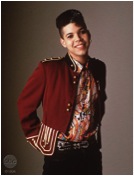 I hadn't seen this episode for many years, and what I remembered most is the enigmatic girl, played by singer-songwriter Juliana Hatfield. But recently, as I re-watched it — tears streaming down onto my neck many times (this is why I can't watch it very often) — something else hit harder.
It's what happens to Rickie.  It's the grim fact that — though I didn't know it at the time — Rickie's situation was and is way more common than I could have imagined.  In fact, perhaps as many as 40 percent of the teens who are homeless are LGBT and were either kicked out of their homes or ran away to escape abuse.
Astonishingly , when series creator Winnie Holzman wrote this episode, she didn't know that this story mirrored the real-life experience of the actor Wilson Cruz, who played Rickie. From the DVD commentary:
"That was the first thing we shot in that episode," Cruz says, "and it was hard." He laughs awkwardly.
"It was hard in what way?" Holzman asks.
"Well, you know, this had actually happened to me less than a year from when we shot this episode," Cruz replies. "I had been kicked out of my house because I had come out to my father the Christmas before this."
How's that for realism?
At one point in the show, Angela's parents, Patty and Graham, go to the police station in a misguided effort to "help" Rickie and the other teens camping out in an abandoned warehouse.  "Is he a runaway or a throwaway?" a jaded policeman asks them.  Throwaway!  Awful!  But sadly, more than 50 percent of the teens who are homeless report that their parents told them to leave or knew they were leaving and didn't care.
For more about what can happen to teens on the street, read this wonderful blog post about the film "Eden" by our Seattle U grad student Perry Firth.
It's a wonderful life for Angela, but not for Rickie
I don't want to give too much away, but here's a brief synopsis of the story.
Rickie's torment at the opening is jarringly juxtaposed with holiday scenes from the Chase household.  In the warmly lit and festively decorated home, Angela's mom is fretting about first-world Christmas problems like whether to reciprocate late-arriving Christmas cards.  Angela's 11-year-old sister wants to know why Angela got to buy new boots and she didn't (hint: pay attention to the role of boots).  Angela, being the "question authority" member of the household, challenges her parents on why they don't go to church and whether they believe in God – though she's shown no interest before.
In the background, the house looks like Martha Stewart's holiday warehouse exploded.  The family TV is constantly on, as scenes of "It's a Wonderful Life" and both the Mr. Magoo and the 1938 versions of "A Christmas Carol" blaze like beacons of holiday normalcy.  It is what Christmas is supposed to look like.
While this is going on, Rickie is getting kicked out of his home.  The next morning at school, when Angela and Rayanne notice Rickie's bruised and beaten face, he shrugs it off and tells them he fell.  He's ashamed.  From her sheltered perspective, Angela doesn't get it; Rayanne, who lacks nurturing parents, does.
Late that night, Rickie goes to Angela's house, seeking a warm place and maybe some food, only to be met with resistance from her fiercely protective parents: "Angela, can we have a word with you?…We hardly know this boy…"
Rickie's obvious and desperate need frightens Angela's parents, Patty and Graham.  That's the moment when they could have prevented homelessness, and become part of his supportive community.  But all they could see was the need not to disrupt their family life, and they felt powerless to step in.  This is an important missed opportunity. Had they only asked Rickie if he had a place to go – even if they felt uncomfortable letting him stay there – they could have helped somehow.  I talk about Rickie as if he is a real person, but as we know, this is a situation that is very real.
Rickie, feeling their rejection, runs off. Where will he go?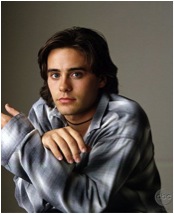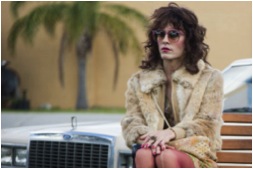 Suddenly, an angel appears, as Angela's dreamboat, Jordan Catalano (Jared Leto), sees Rickie shivering outside a store and offers him a ride somewhere.  Rickie, grateful to get out of the cold, accepts.  Jordan is able to grasp immediately what happened to Rickie.  He says, "My father used to beat me up too."  Jordan also knows where Rickie can crash for the night.
"She could be in my shoes"
The next day at school, Angela can't find Rickie, but comes across the mysterious girl in the music room, and is spellbound by her sweet, ethereal singing.  She notices the girl's threadbare clothing and the holes in her boots.  The girl says she knows where Rickie is and she's watching over him. Angela is taken with this girl and wants to befriend her.
On Christmas Eve, Angela surprises and delights her mom by setting the dinner table without being asked.  But of course, there's a reason behind it: Angela wants Patty to let Rickie and the girl come over for Christmas eve dinner.  When Patty says no, it turns into a massive mother-teen daughter argument – "the kind where it feels like the fight is having you," as Patty describes it — that sends Angela stomping off.  Too late, Patty realizes that Angela has gone off to find Rickie.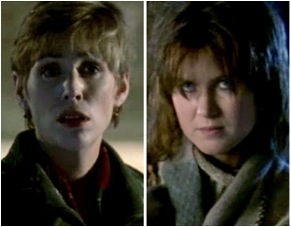 This sets into play a cascade of events that begins with Patty in existential crisis, searching desperately for her daughter and begging for help from above, and climaxes with a staggering scene between Patty and the mystery girl in a snowy churchyard.  Patty has finally realized who the girl is, or rather, what she is.  "What else do you want to ask me?" the girl says.  Patty's question is only four words long, but it has haunted me for 19 years, as have the girl's two-words in reply.  I can't spoil it. You need to watch it yourself.
Then you need to think about what you can do to help teens who end up on the streets, and prevent it from happening to anyone else.
Sure, there are those who think this program is too after-school-special-y, or lacks subtlety in its message that "you could be in my shoes."  But, here's a message to you, snarky Internet commenters: You are just wrong.  If we all understood that there is not that much separating us from those who are homeless, then we wouldn't feel discomfort being around them, de-humanize them, joke about them, commit violence against them, or do nothing.
One happy ending to this story: It led to a reconciliation between Wilson Cruz and his dad.  A year after throwing out his son for being gay, Cruz's dad saw this episode on TV and contacted his son. Cruz says in the DVD commentary that this is why he has a relationship with his dad to this day.  Holzman, moved, says that she's heard that from many young people over the years.  I guess there is a Christmas miracle after all.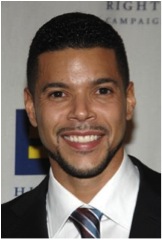 Now here's the postscript, which has happened since I drafted this post a few days ago: Twenty years after that life-changing event when he was rejected by his dad at age 19, Cruz is now a spokesperson for GLAAD, the advocacy organization for the LGBT community.  In that role, he's been the chief spokesperson for GLAAD about the "Duck Dynasty" controversy.  The patriarch of the "dynasty," Phil Robertson, made anti-gay remarks in an upcoming interview with GQ; A&E has put Robertson on hiatus from filming on the popular show, the number-one reality show on cable TV. Cruz has been front and center in media reports about the controversy, sharing GLAAD's view that "such hateful anti-gay comments are unacceptable to fans, viewers, and networks alike."
It's a great cap to the journey that started on a dark, snowy street in 1994 in a little show that lives on.
"My So-Called Life" is available on DVD and elsewhere, and the Christmas episode, "So-Called Angels," is at hulu.com, Amazon.com and iTunes.  Executive producers are Marshall Herskovitz and Edward Zwick; co-executive producers are Winnie Holzman and Scott Winant.
What You Can Do:
Comments:
Have you seen this episode? Are there other Christmas shows that realistically portray homelessness among children and teens?