At Firesteel, we believe that making your voice heard can spark change that will help end homelessness. The Washington Low Income Housing Alliance is a statewide leader in connecting community members who want to speak up with opportunities to make a difference. We're very excited about the Housing Alliance's new program focused on empowering people who have experienced homelessness or housing insecurity to share their stories and have a positive influence on budget and policy decisions. Guest blogger Alouise Urness explains the motivation for the program in today's post.
---
Written by Alouise Urness, Washington Low Income Housing Alliance Community and Member Organizer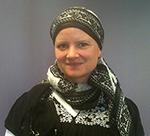 As community and member organizer at the Washington Low Income Housing Alliance, I love talking with folks whose passion for affordable housing and addressing homelessness comes from a deep place–their personal experience of homelessness or housing insecurity. I'm always inspired by those interactions. And I often find myself thinking, "This is exactly what people need to hear. This person's story is why our work matters."
Next comes helping connect this person to more formal opportunities that have an impact on policy and budget decisions. This often leads to new possibilities of sharing their story, often with our partners like Firesteel. So I'm incredibly excited that we've come up with a new way to support these connections: the Emerging Advocates Program.
Starting in September, we'll convene a group of 15-20 people whose advocacy is grounded in their lived experience. For six weeks, they'll be able to learn, share, and practice advocacy skills together.
Participants will have a chance to draw on the knowledge of guest trainers and speakers, Housing Alliance staff, and even a legislator and/or legislative staffer. We'll support attendees in taking some concrete steps as advocates, like writing a letter to the editor on an issue, planning a meeting with an elected official, or using Facebook or Twitter to raise awareness and spur action. Not only will the emerging advocates meet regularly this fall and visit Olympia together, we anticipate they will also have forged relationships with each other and with the Housing Alliance that will continue to support them long after the training part of the program ends.
I think that we've touched on a huge need in the community. We've already received a ton of inquiries and applications for the program. I've fielded questions and applications from people as close as Seattle and as far away as Okanagan and Chehalis. Though the weekly gatherings will take place in Seattle, those who can't get to the training location will be able to participate online.
If you are looking for an opportunity to grow your advocacy skills to match the story you have, I hope you'll check out the Emerging Advocates Program page at the Housing Alliance website. Or maybe you know someone who'd be a perfect fit? Please send them this link.
Applications are due Friday, August 9. Feel free to email me if you have any questions.