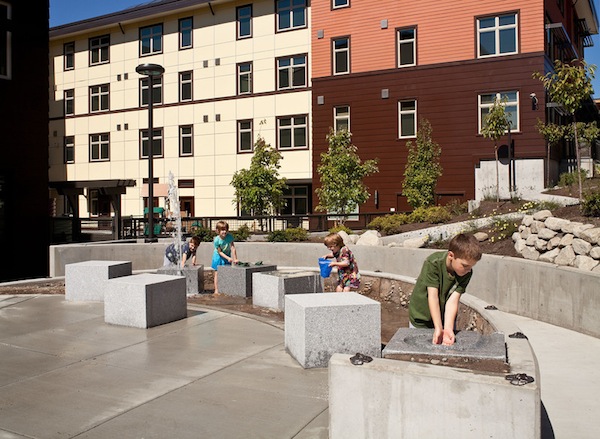 In 2009, single mother Alice* was laid off from her job of three years. By early 2011, she had exhausted her unemployment benefits, as so many of our neighbors have following the Great Recession.
Although Alice found a part-time job, she and her children, then ages two, three and nine, were forced to live with friends and family. Moving place to place was tough on the family. One year, the oldest child attended four different schools in two different states.
Good news came last year, when their family was accepted to live at YWCA Family Village at Issaquah, an affordable community built with Housing Trust Fund support.
"The fact that we finally had our own place was just the beginning of our blessings," Alice says. She has joined computer and financial literacy classes, and has taken advantage of counseling services offered in the community. Her younger children attend an on-site pre-school.
Most important, they now have a safe, stable and affordable home.
Alice's home exists thanks to the Housing Trust Fund, the state's best tool for creating and maintaining affordable housing.
Right now, our state lawmakers are making budget decisions that will affect the Housing Trust Fund and our social safety net. The legislature is split, with the House supporting a responsible budget that preserves social services, and the Senate pushing for a budget that slashes the safety net.
The two sides couldn't come to a compromise during their normal working session, and are now in a double-overtime "special session" to negotiate the budget. If they don't reach an agreement soon, many government services will shut down on July 1. (Read all the details about how these talks affect access to safe, affordable homes on the Washington Low Income Housing Alliance blog.)
It's not too late to send a message to your lawmakers. Tell them that everyone deserves the opportunity to live in a safe, healthy, affordable home, and that's why you support investment in the Housing Trust Fund and the social safety net.
You can use the Washington Low Income Housing Alliance's easy email form to contact your legislators, or call the legislative hotline at 1-800-562-6000.
*This name was changed to protect the family's privacy.