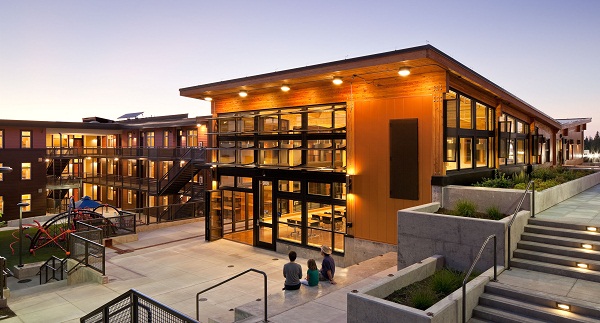 Written by Degale Cooper, Services Director at YWCA Family Village at Issaquah
"I want to be part of the unfolding," says Linda*, one of YWCA Family Village at Issaquah's elder residents. "This is not a short-term transition moment for me. I envision always living here. I'm elderly with limited resources and this community offers me more than just a place to live."
Linda, like many older adults who seek to move closer to family, sold her home. She left Vermont just over two years ago and came to Washington to help support her adult children and aging mother. With both children in college and her mother's health progressively declining, Linda moved to the Redmond area and settled in to a home just above her financial means.
Determined to make a go at it, Linda tried hard to find a job with hours flexible enough for her to tend to her mother. The job search can be particularly tough for older adults, and Linda received no work offers. With the money from selling her house running low, Linda found herself needing help.
"A friend of mine read in the paper about the Family Village in Issaquah and told me that she was going to try to live there. She suggested I also apply because the YWCA was offering affordable housing with supports!" expresses Linda with great enthusiasm.
Drawing in closer as though she has a secret to share, Linda explains that she has always been able to take care of her own needs.  Her hope was to buy land, care for her elderly mother, and be an occasional support for her adult children. Finding a home at the YWCA Family Village at Issaquah (FVI), Linda has gotten exactly what she has needed since leaving her familiar community in Vermont. FVI offers a variety of services for individuals and families living in permanent affordable housing. Residents represent a mix of household incomes ranging from 30% to 60% of the area's median income level.
"I have access to everything from social activities with people my age, employment support, and even counseling. Until just last year, I was feeling very frustrated, isolated, and even depressed about my circumstances. FVI living has stabilized me, and working with the staff helps me keep my head on straight," laughs Linda as she talks about the endless resources available through the YWCA.
When asked what she wants most for herself now that she feels settled into living in Issaquah and residing at FVI, Linda talks about wanting to be an advocate for others.  She wants to reach out to people who, like herself, need a helping hand when times get tough. As Linda sees it, sometimes the only thing to do is unfold yourself, spread a little of what you know and have experienced, in hope that it can help others.
*This name has been changed to protect the resident's privacy.
---
Housing Trust Fund dollars helped build Linda's home, the YWCA Family Village at Issaquah, as well as many other safe, affordable homes.
The Housing Trust Fund is in danger and needs our immediate advocacy. $175 million was requested for the 2013-2015 budget, and we recently learned that only $35 has been allocated in the Senate budget! This won't come close to meeting our state's affordable housing needs.
Right now, our state legislators are making budget decisions that impact the Housing Trust Fund. Please act now to preserve this vital fund so that people like Linda can live in safe, affordable housing.
Check out our Housing Trust Fund information page, featuring a helpful infographic, and then contact your elected officials now. Urge them to invest in our communities.