We wrap up our series, "Participating & Proud," with Nora Johnson, a Family Advocate at the YWCA I Seattle I King I Snohomish Family Village in Mountlake Terrace, sharing her experience at the Pride Parade last Sunday. Members of the Lesbian Gay Bisexual Transgender Queer (LGBTQ) community are also members of our YWCA community and many of them face unique housing and homelessness challenges due to their sexual orientation and gender expression. The YWCA Seattle I King I Snohomish CEO, Sue Sherbrooke, believes, "Standing with our LGBTQ clients, staff, volunteers, board members and supporters is one concrete way we express our belief in the dignity and worth of every human being." We hope this blog series is one more way that we can help take a stand and work towards ending homelessness for everyone.
---
Written by Nora Johnson, a Family Advocate at the YWCA I Seattle I King I Snohomish Family Village in Mountlake Terrace, and a member of the SO/GI committee. 
The theme for the 38th annual Seattle Pride Parade was the Many Faces of Pride. More than 150 organizations participate, demonstrating that the LGBTQ community and our allies are nothing if not multi-faceted. The social and advocacy groups that serve the community received enthusiastic cheers, as did Drag Queens, Dykes on Bikes, and the giant rainbow flag. It was inspiring to see business march next to labor unions; churches with atheist groups, sports teams with performance artists. A true example of unity in our diversity
It was also impressive to see how many of our friends, families, and co-workers were walking in the parade and cheering on the sidewalk. The staff and clients of YWCA were well represented too, with 20 people and a puppy in our group mostly decked out in shades of persimmon (and a few pink boas) just for fun. We passed out fortune cookies, mardi-gras beads, and fliers and had a great time. There were also YWCA folks in other contingents, and lots of familiar faces among the spectators.
The Many YWCA faces of Pride
Persimmon Pride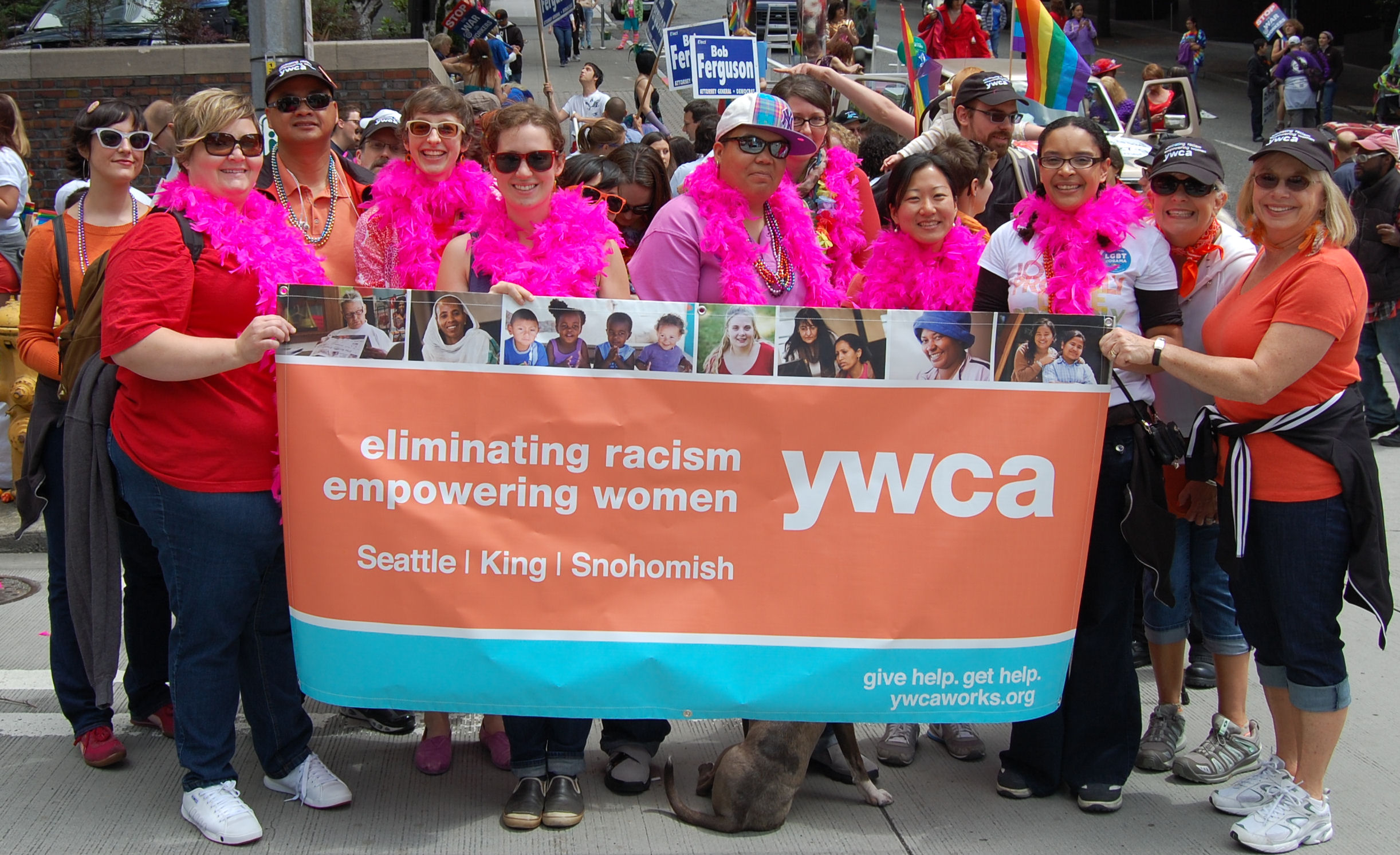 Our Mission: Empty the bling bags, then give away the bags!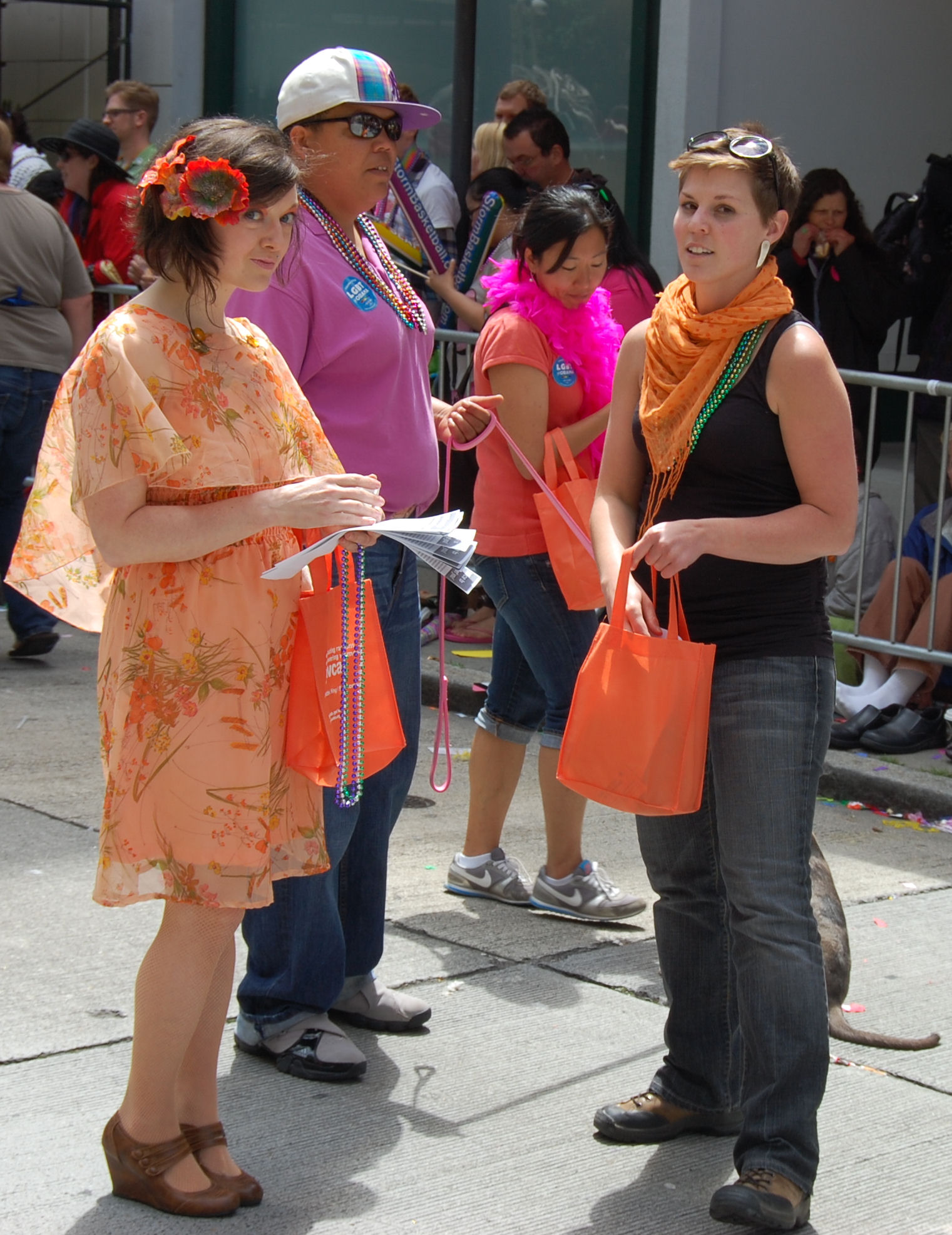 What was in the bags? Goodies and information about the YWCA—check out the tweet below that gave a sneak peek before the parade. We ran out 30 minutes into the parade—more demand than expected!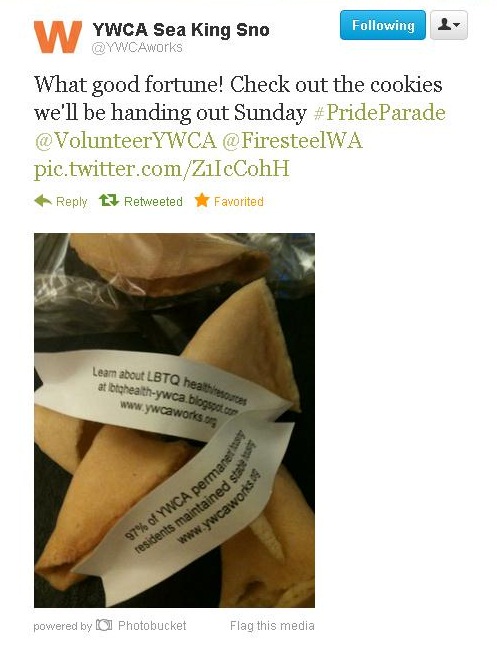 Some folks arrived decorated…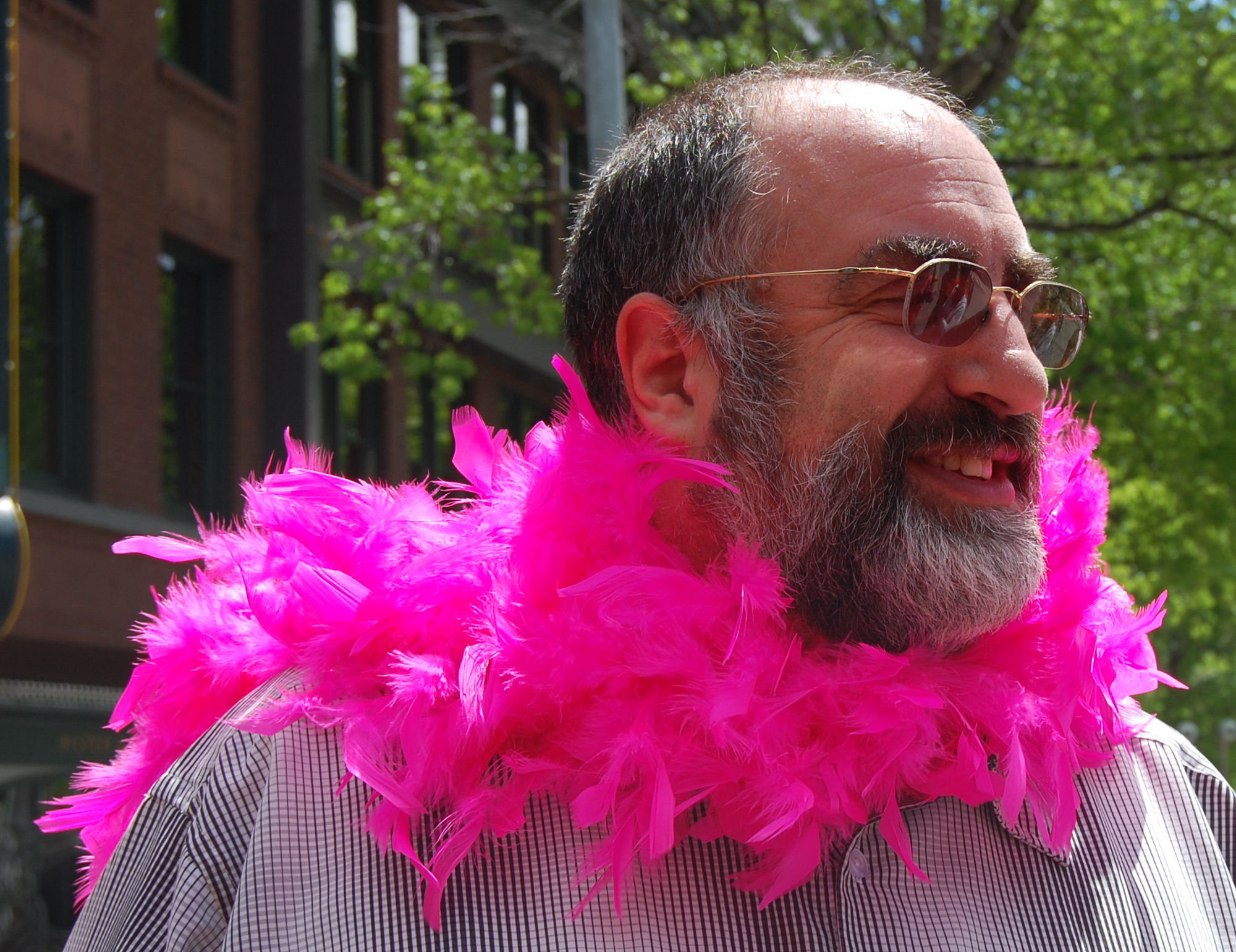 Some had decoration thrust upon them!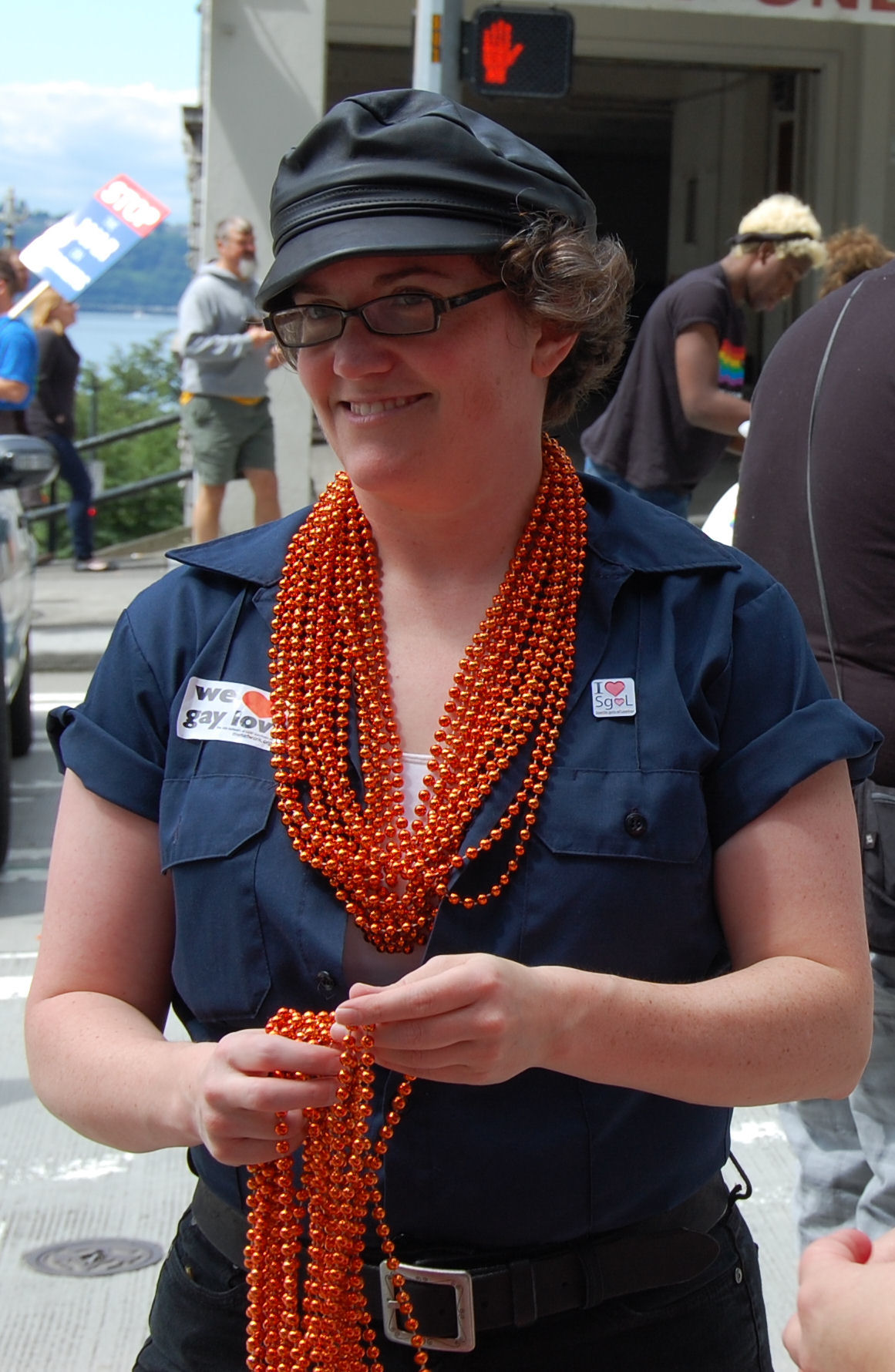 Pride is for families…
Families of all kinds…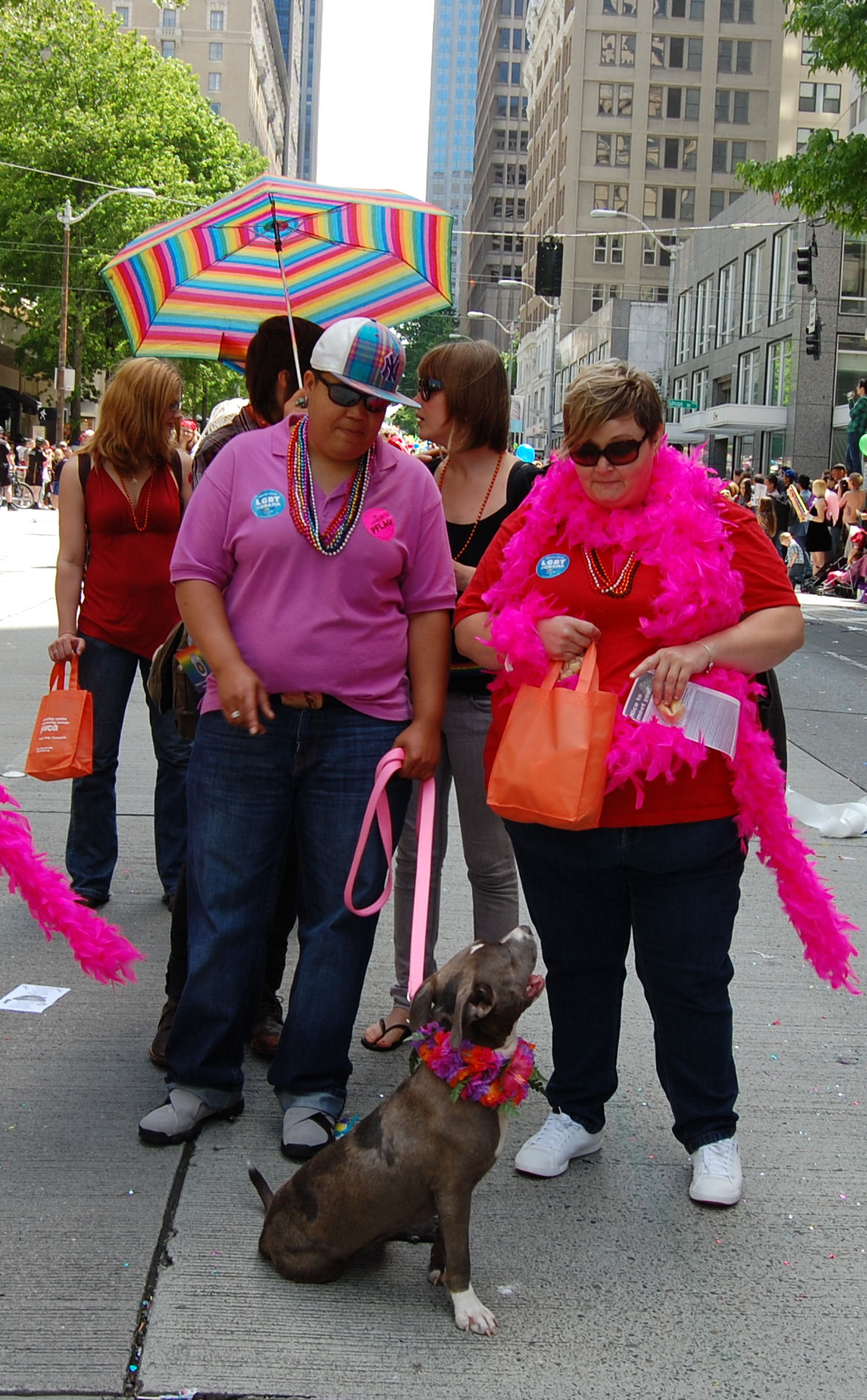 Pride is for Love…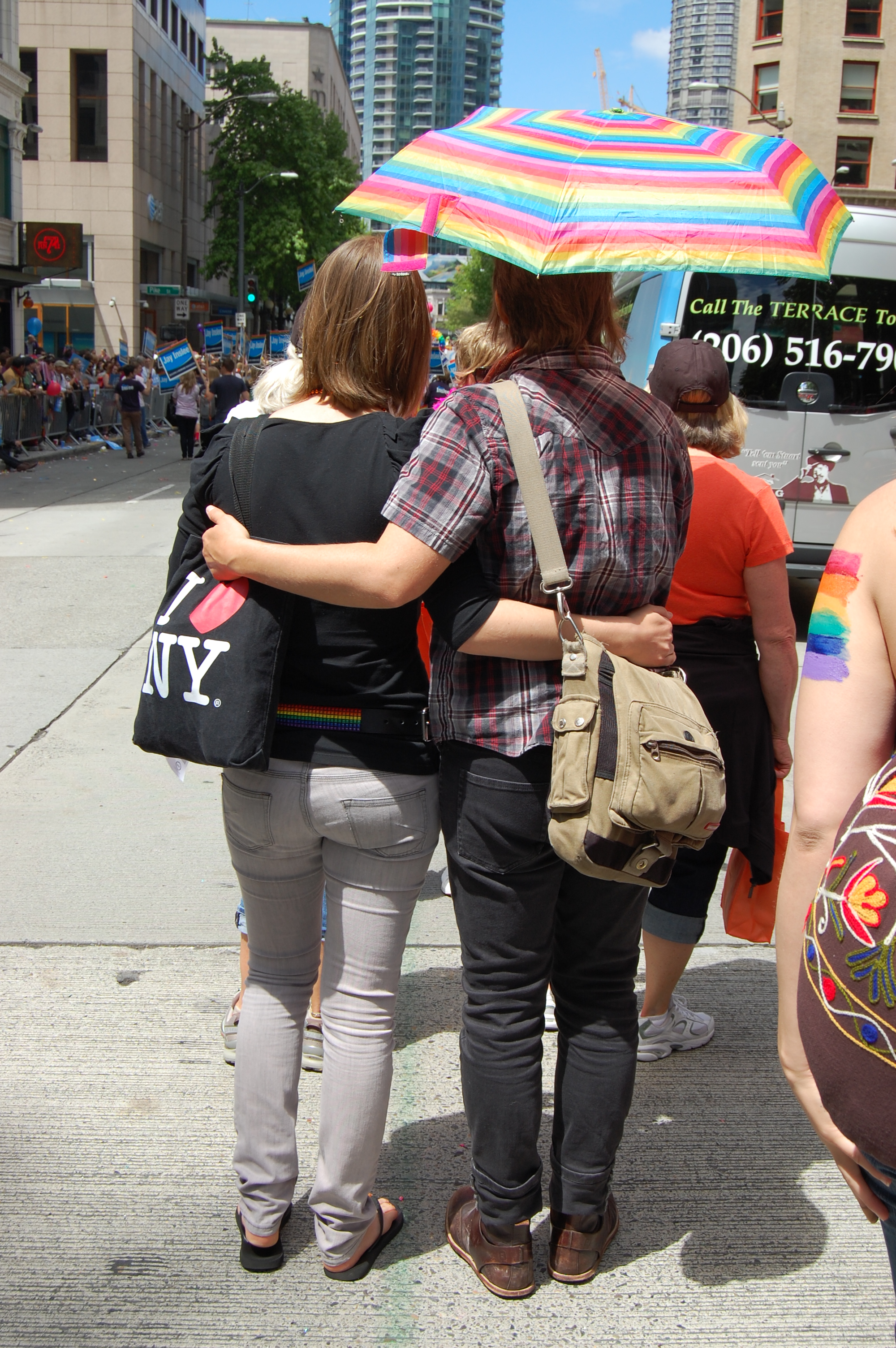 Now that Pride Week is over, are you wondering how you can still stay involved and advocate for the LGBTQ community? Check out these resources:
Lambert House, a center for Gay, Lesbian, Bisexual, Transgender and Questioning youth that empowers youth through the development of leadership, social and life skills.
YouthCare ISIS House, one of the only programs for LGBTQ homeless youth in the Pacific Northwest.