In the week leading up to the Pride Parade in Seattle, we continue our series, "Participating & Proud." YWCA Seattle I King I Snohomish staff and volunteers are participating in the parade this upcoming Sunday and we will take you through many of the reasons why it is important to do so. Members of the Lesbian Gay Bisexual Transgender Queer (LGBTQ) community are also members of our YWCA community and many of them face unique housing and homelessness challenges due to their sexual orientation and gender expression. The YWCA Seattle I King I Snohomish CEO, Sue Sherbrooke, believes, "Standing with our LGBTQ clients, staff, volunteers, board members and supporters is one concrete way we express our belief in the dignity and worth of every human being." We hope this blog series is one more way that we can help take a stand and work towards ending homelessness for everyone.
---
Written by Nora Johnson, a Family Advocate at the YWCA I Seattle I King I Snohomish Family Village in Mountlake Terrace, and a member of the SO/GI committee. 
In his March 8th speech at the White House LGBT Conference on Housing and Homelessness, Housing and Urban Development Secretary Shaun Donovan stated that, "All of us–regardless of our sexual orientation, race, gender, or gender identity–deserve a place to call home." He went on to outline recent policy changes that address the housing needs of the LGBTQ community. You can view the full transcript of Donovan's speech HERE but to get to the heart of it, here are a few highlights, paraphrased from his speech.
The Homeless Emergency Assistance and Rapid Transition to Housing Act expanded the definition of homelessness to include unaccompanied youth under 25 years old — allowing more LGBT young people to qualify for assistance under federal housing and homelessness programs.
The National Fair Housing Policy Conference
HUD hosted the first ever session on housing discrimination based on sexual orientation and gender identity.
HUD is conducting the first-ever national study of LGBT housing discrimination — a historic and important study designed based on feedback from town halls conducted in communities across the country.
HUD staff has been instructed to carefully assess whether any LGBT-based housing discrimination complaints could be pursued through the Fair Housing Act or state or local discrimination laws. They have also launched a webpage on LGBT housing discrimination.
Last year, HUD and HHS held the first-ever LGBT elder housing summit, bringing together advocates and practitioners from across the country to highlight existing barriers and explore future opportunities to support housing and long-term care designed for seniors in the LGBT community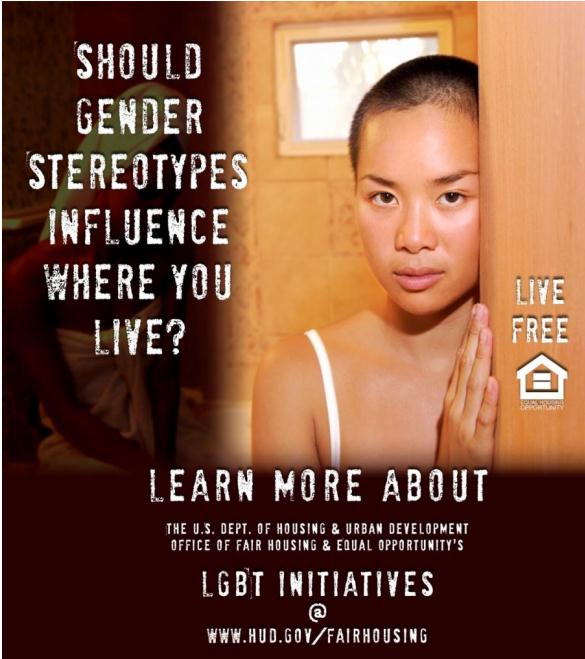 With HUD's Live Free fair housing education and outreach campaign, they've been targeting print and social media like Facebook, with videos, podcasts, and ads that address discrimination and let people know how to report violations.
Grants cannot discriminate

Grant applicants are now required to comply with state and local anti-discrimination laws that include sexual orientation or gender discrimination — covering 20 states that more than four-in-ten Americans call home. Three billion dollars in federal funding is available in these grants — and Donovan emphasizes they want to make sure as many dollars as possible are protecting the rights of every American.
With many changes still needed, Donovan focused on the positive, claiming, "We have to say, it's been a pretty good year!"
---
Other related resources
Firesteel featured Shaun Donovan in an earlier blog post where he interviewed with John Stewart on the Daily Show HERE.