We continue our Stand Against Racism blog series as we lead up to the April 27th Stand Against Racism event day. 
Written by Rick Derksen
---
In July of 2011 my wife and I—we are white—moved into a house that we had purchased just off of Martin Luther King, Jr. Way where the Central District, Madrona, and Leschi meet, not far from downtown Seattle.  Before coming here from Pennsylvania two of our adult children and their spouses helped us find this house.  One of the criteria that we had given our children when looking for a house in Seattle was that we wanted to live in an area with racial and cultural diversity.  Of course one of the unearned privileges we have as white folks in this country is the freedom to live wherever we want to live.  This is certainly true for me.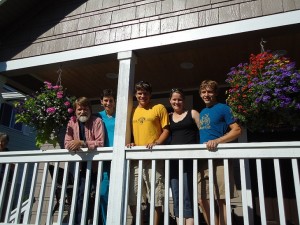 Although I knew something about the history of restrictive covenants, what I didn't know before moving to Seattle was that the Central District and the International District were about the only parts of Seattle where people of color could live from the 1920s into the 1960s, thanks to racial restrictive covenants.  This particular example of systemic racism ended when Congress passed the Fair Housing Act in 1968, but the racial composition of many Seattle neighborhoods, like neighborhoods in cities and towns across the U.S., continues to a significant degree to reflect the history of legalized segregation.
The racial make-up of the neighborhood that I now live in, however, has changed remarkably in the past few decades.  More and more white people have moved in.  As that has happened, property values have increased and people of color—mostly African-Americans in the case of my neighborhood—have been displaced to other parts of Seattle.  After moving into the house that we purchased from a group of investors, I learned from my new neighbors that an African-American family had lived in this house for decades and it was after the elderly parents had both died that one of the adult children sold the house to the investors who remodeled it and then sold it to us.  Unwittingly, I had participated in gentrification, an example of systemic racism that, in some ways, has replaced the restrictive covenants of the past.  How do I feel about that?  Sad about the part that I play, often unconsciously, and mad at the system all at the same time.
Some of you may be scratching your heads and wondering what the problem is!  The family that lived in this house sold it… investors bought it and fixed it up… we bought it.  End of story.  That's how the market works, right?  Did I do anything wrong?  Not necessarily and that's kind of the point.  I don't believe that it is quite that simple.  It's about patterns of systemic racism.  No doubt during the period of restrictive covenants there was disinvestment in the Central and International districts on the part of white-owned businesses.  Now with gentrification there is a process of reinvestment.
So what do I do with this knowledge and these feelings?  For starters, I want to say that my wife and I have most definitely experienced community in our new neighborhood, thanks to the warm welcome we received from our neighbors!  In addition, I want to acknowledge the fact that I continue to benefit from an insidious and ever-changing system of white privilege, one that has morphed from the racially restrictive covenants of the past to the gradual and more subtle process of gentrification.  One more thought.  What would happen if we identified housing as a basic human right and not just as a commodity?  Maybe together with others we could take some small steps towards building community by dismantling a system that benefits some, displaces others, and dehumanizes all of us.