Written by Denise Miller, Firesteel Advocacy Coordinator
On Tuesday, more than 650 Washingtonians who are passionate about ending homelessness made our way to sunny (!) Olympia for Housing and Homelessness Advocacy Day (HHAD). We learned about pending housing and homelessness policies, rallied on the steps of the capitol, and met with our legislators.
It was an exciting day of advocacy, and the energy could be felt online, too! #HHAD2015 trended on Twitter in the Seattle area, and the hashtag reached more than 16,000 Twitter users, Joaquin Uy, the communications specialist for the Washington Low Income Housing Alliance, told us.
#hhad2015 is now trending in #Seattle http://t.co/lj7wA8s9U3

— Trendsmap Seattle (@TrendsSeattle) February 17, 2015
The Housing Alliance does a great job organizing HHAD, one of the largest advocacy days in Olympia. We were thrilled that they invited Firesteel to participate in a few fun ways: We co-presented a workshop on using social media for advocacy, ran a photo booth, and invited advocates to listen to stories about family homelessness collected by the StoryCorps "Finding Our Way" project.
Social media for advocacy
Two of the big reasons we love teaching social media workshops at Advocacy Day are:
1. We get to co-present with Joaquin.
@joaquinuy's #HHAD2015 selfie w/ #socialmedia & #advocacy workshop attendees!!! pic.twitter.com/hdInCUNrwh — WA Housing Alliance (@WLIHA) February 17, 2015
2. The power of social media is demonstrated many times over the course of the day. We connected online with workshop attendees…
@namecarli @WLIHA @FiresteelWA @ComFrameHousing so great to have you join us in person and online! #advocacylove — FiresteelWA (@FiresteelWA) February 17, 2015
@tonykoester @LifelongWA thanks for being an awesome participant in our social media workshop! Here's to more storytelling #HHAD2015

— FiresteelWA (@FiresteelWA) February 17, 2015
… and even had a Twitter conversation with Sen. Cyrus Habib.
Thanks @cyrushabib for being a champion for #affordablehousing & an end to #homelessness! #hhad2015 pic.twitter.com/ukQyF8HgOg — FiresteelWA (@FiresteelWA) February 17, 2015
.@FiresteelWA Anytime! Thanks for your leadership on this important issue.

— Cyrus Habib (@cyrushabib) February 17, 2015
Photo booth
This was our second year hosting an HHAD photo booth, and advocates knew just what to do! The full album of photos from both Olympia and Seattle University is on Facebook. Here are a few highlights: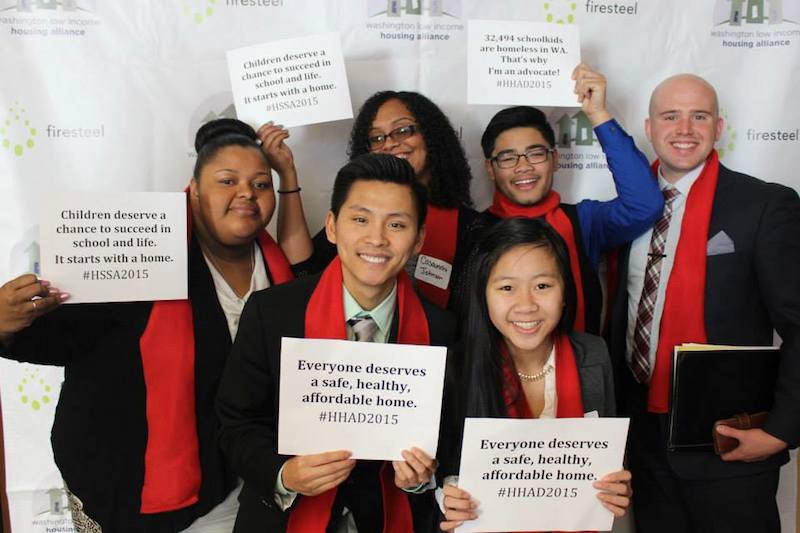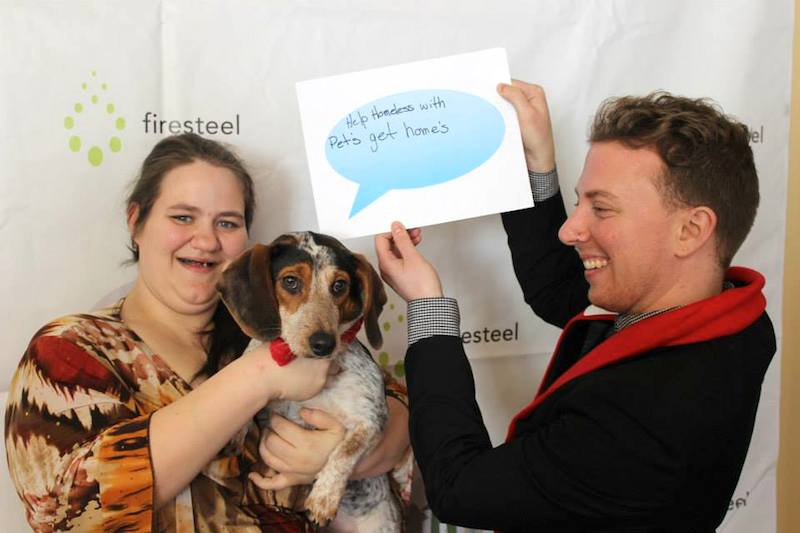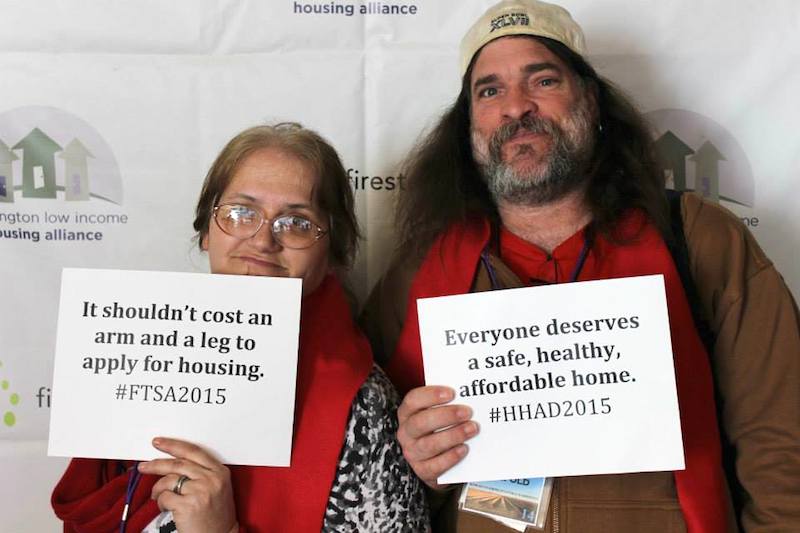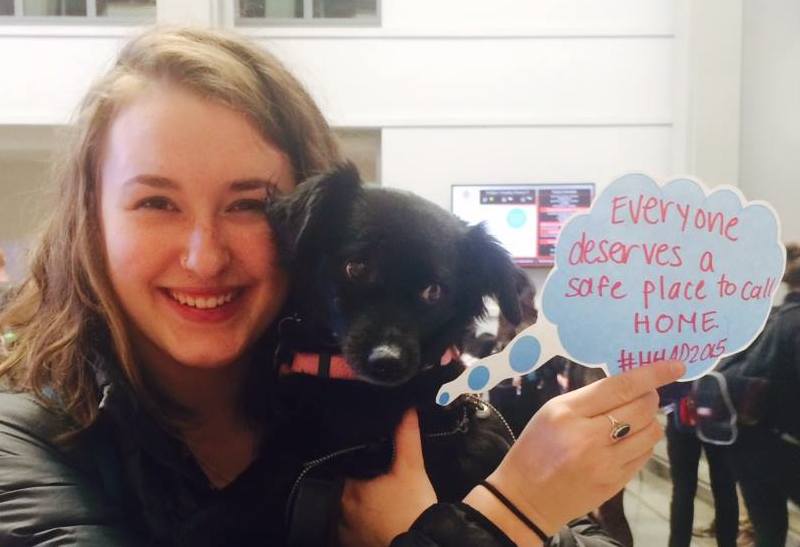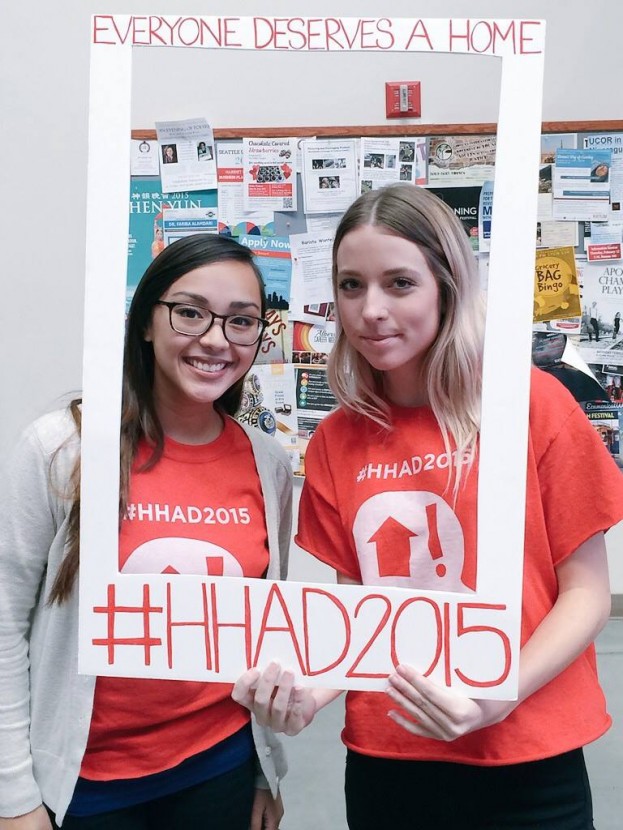 StoryCorps listening station
At the training we shared one moving story from the "Finding Our Way" StoryCorps project, a conversation between an 11-year-girl and her mom about the challenges of living in their car. In the afternoon, we hosted a table where advocates could put on headphones and listen to more stories. One first-time HHAD attendee named Matt told me he thought the stories could go a long way to break down stereotypes around homelessness. I couldn't agree more!
I hope you'll check out and share the stories about family homelessness posted on the StoryCorps section of our website. Sharing on Facebook and Twitter couldn't be easier; just click the icons underneath the pictures of the storytellers, and a screen will pop up prompting you to edit your message and post. This screenshot highlights the social sharing buttons:

What now?
As Rep. June Robinson told us, the need to advocate continues well beyond HHAD!
.@gruberobinson reminds us to keep up the #housing & #homelessness advocacy after #HHAD2015 & year-round. pic.twitter.com/CvUM5FxMv6

— FiresteelWA (@FiresteelWA) February 17, 2015
To keep up with the latest on housing and homelessness policies, we recommend:
It's going to take a lot of advocacy, but together we can spark change and end homelessness!