Written by Denise Miller, Firesteel Advocacy Coordinator
Voting for leaders and policies that will put us on a path toward ending homelessness is essential. Registering to vote is the first step in creating change through the democratic process, but about a quarter of Washingtonians who are eligible to vote aren't registered! To inspire our readers to register (or to update your registered address if you've moved), we invited a variety of people to tell us their thoughts on the importance of voting. We'll share their responses through Tuesday, Sept. 23, which is National Voter Registration Day.
First up is Lakesha, a YWCA resident who never misses a chance to make her voice heard through her ballot. Meet Lakesha (and Roxy the Jack Russell Terrier!):
Lakesha makes the important point that nothing will change if we don't vote. If we're silent, officials assume we're happy with the status quo. To effect change, we must send our leaders a message. Voting is powerful way to do it.
Another great point Lakesha makes is that it's easy to vote here in Washington state. Thanks to our state's vote-by-mail system, we don't face long lines at the polls or many of the voter suppression issues that plague other states. Make the most of our state's relatively progressive voting system; vote in every election!
Registering to vote is easy, too. You can do it online by clicking the image below: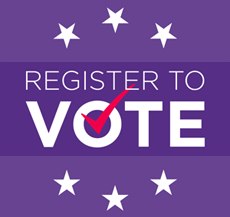 In order to vote in the Nov. 4 general election, the deadline for online and mailed-in registrations and address updates is Oct. 6. New registrations (and only new registrations) will be accepted in-person through Oct. 23.
But why wait? Register to vote or update your address now!
What you can do
Register to vote, or update your registration address. Not sure if you're eligible to vote? Visit the Secretary of State's website to find out.
Are you a homeless service provider? Help your program participants register to vote. The Seattle/King County Coalition on Homelessness has a useful Homeless Voters' Information Guide.
Share this post on social media. It may be just the reminder your friends and family need to register!
Subscribe to this blog, where we'll keep sharing more compelling reasons you should register and vote. On Monday we'll hear from future voter Leyi.