Here's another post about the importance of personal stories in the movement to end homelessness! 
Have you heard about Real Change's Homeless Speakers Bureau? It's a group of homeless and formerly homeless people who speak about their personal experiences with homelessness. Speakers help educate the public, facilitate conversation, and inspire social action. You can learn more about the program and request a speaker at Real Change's website.
Speakers Bureau member Susan Russell volunteered to write this post about why she speaks up about homelessness, even when doing so is difficult. Every time I talk with Susan, I'm struck by her warmth, enthusiasm and sincerity. I'm thankful to her for sharing so much of herself, both in this post and in all her advocacy work.  – Denise
---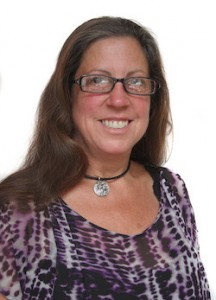 Written by Susan Russell, housing advocate and member of Real Change's Homeless Speakers Bureau
I speak to tell a story that needs to be heard. To be homeless is a hardship that most will never experience. And for that reason, I tell my story.
It takes me several days to prepare to speak. I go through different levels of emotions and write, re-write, and re-write again. I want to remain as positive as possible even if the subject is unpleasant to educate without anger.
Before speaking to a large group I get a little nervous. But I always remember we're all people, not a lot separates us; just some have it better than others. I put myself in other people's shoes and try to understand what they are going through, so I will always have compassion.
When I was homeless I was hurt by why people seemed to not care. I was invisible. When I started selling the paper I started to hear their stories and they heard my story. Through this process I was brought back to the community, by the community.
Sharing my story has opened doors for me that were once closed. I am passionate about sharing my story and educating the public about the realities of homelessness. No one should ever have to go through homelessness on the streets.
The first time I sold papers up at Ken's Market in Greenwood was the hardest thing I've ever done in my life. You see, I hid my homelessness from my family, friends. Selling papers was my public statement that I was homeless and I remember going around the corner and crying.
In 2013, I spoke at the city council meeting in favor of tent encampments, just three months after I first stood on that public sidewalk and sold the paper for the first time. It was a powerful moment for me. It was the first time I spoke in public in over 10 years. I did not know about the Homeless Speaker's Bureau at that time but I knew that after speaking up at the council meeting that it would not be my last time speaking. I plan on being a face now. There are a lot of good people in this city.
The speakers of the Homeless Speakers Bureau are advocates, coming together to help fight for the poor, the sick, and the homeless. Together we can make a difference educating people on what it is like to be homeless, and how to end it.
One person at a time, starting with me!
More from Susan Russell
Susan spoke with us at the Stand for Compassion in Seattle. Watch what she had to say:
Volunteer filmmaker Anissa Amalia recently made this profile of Susan Russell in partnership with Real Change:
A graduate of the Washington Low Income Housing Alliance's Emerging Advocates Program, Susan wrote a blog post encouraging other people who have experienced homelessness to become advocates.