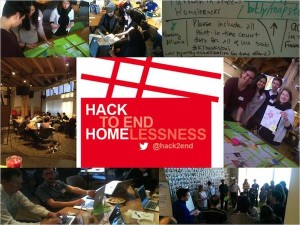 Written by Erin Murphy, Director of Community Engagement for YWCA Seattle | King | Snohomish, and Denise Miller, Firesteel Advocacy Coordinator
Seattle's first-ever Hack to End Homelessness brought housing advocates and service providers together with members of the tech community to design and build solutions to homelessness. The weekend of May 2-4, more than 100 people collaborated on a dozen projects including informative infographics, data analyses and visualizations, websites, and mobile apps.
Among the completed projects was a mobile-friendly social network for people experiencing homelessness. We Are Visible is the brainchild of Mark Horvath, the activist who documents and shares stories of people who are experiencing homelessness. Mark talked with us about his experience at the Hack to End Homelessness, and his motivations for launching We Are Visible. We also interviewed a member of Mark's hackathon team, as well as the event's tech lead, for this video:
Firesteel's Project
Firesteel partnered with advocacy organizations Washington Low Income Housing Alliance, Housing Development Consortium, and Columbia Legal Services to build maps that will help people — including elected officials — understand the impact of housing policies on communities across the state. We all needed to visually represent state and county data, so we did what we do well — collaborated!
A team of 10 volunteer designers, developers and data professionals spent the weekend interpreting data sets from multiple sources and organizing the data into something we could use. Then they translated that data into a pretty map, writing code and designing icons along the way.
It was incredible to be in such a collaborative space. Everyone was an expert, but no one was an expert at everything. So we all knew we had to rely on each other to be really effective. The day started off with project pitches from the nonprofits, and Erin represented Firesteel. Her spiel was strictly timed, but she made the cut at exactly two minutes!
Erin let out an excited arm-pump when she learned she'd made her project pitch under the two-minute mark. Photo by Bryan Copley (@reblsfounder on Twitter).
Next came the speed dating part. Or at least that's what it felt like! Erin held a sign with our project name and the "techies" milled around asking questions and trying to decide where they could best help.
Once the project teams were formed, our combined data team broke off to do some intensive project management. Our developers decided they wanted to combine our data on the same platform for efficiency's sake. Our tech team grilled the nonprofit team members to really understand what our needs and goals were, and we came up with some key messaging that would help guide how the data should be filtered. After that, it was heads down, furious typing, and hours of data mining.
Our team was incredible. Erin learned that it is actually much harder to create something with existing and limited data than it is to create a new mobile app! Deciphering the data was a huge task and some of our team members stayed into the late hours of the night. By the next day, our data was cleaned up and the mapping filters applied (by county, school district, and voting district). With only about three hours left, our developers did what they could to code the data into something pretty, and many of us worked on quickly creating a presentation to share what we had done.
Even though our project was not complete upon presenting it, the community panel still seemed impressed with what we had accomplished! Erin felt really tired, but it was also exhilarating to put so much energy into something over a short but intense period of time, with such a positive outcome.
Erin presented work the 15-person Maptastics team accomplished at the Hack to End Homelessness. Firesteel is working on an interactive map to help people visualize the impacts of housing policies like the Housing Trust Fund in their communities.
We're thrilled that members of our hackathon team are continuing to work on our project, which we plan to unveil this summer. Those are some seriously skilled volunteers who are incredible for sticking with us until the end, so look out for our final product!
Also keep an eye on this blog for a guest post from Candace Faber, the project manager for the Hack to End Homelessness. Her dedicated team ensured that the weekend resulted not only in awesome tech solutions, but also in expanded awareness of the complex problem of homelessness. Tomorrow she'll share her perspective on building trust and fostering collaboration in the nonprofit and tech communities.
More on the Hack to End Homelessness
– Check out a rundown of hackathon projects with links on the Hack to End Homelessness website.
– Hannah Hunthausen from the Seattle University Faith & Family Homelessness Project and hackathon participant McKenna Haley crafted Storify recaps of the weekend's launch event and kickoff. Catherine Hinrichsen of the Seattle University Faith and Family Homelessness Project "Storified" the project presentations, and also wrote a great blog post about the whole event.
– Real Change News published a feature article called "Taking back the hack."
– At the beginning of the weekend, Mark Horvath shared his thoughts on the tech community's role in ending homelessness, and talked about the time he got "homeless" to trend on Twitter. Watch the video: